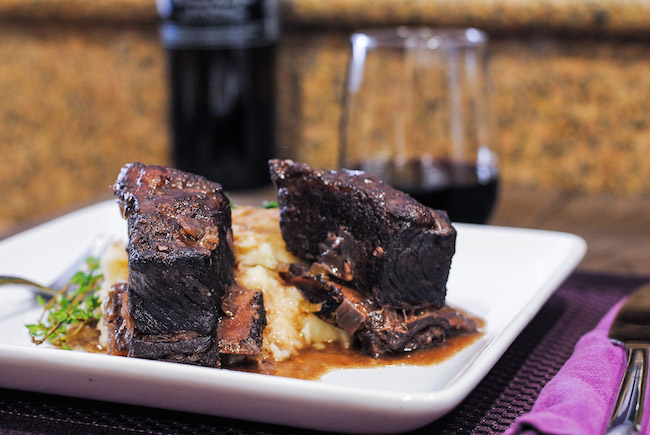 This Red Wine Braised Short Ribs recipe was inspired by a recipe I received in a wine shipment a little over two years ago.  The original recipe came from The El Dorado Kitchen in Napa and was made with a blended red wine from Anaba Vineyards.  I have held onto this recipe because it sounded delicious and planned on making it just as soon as I purchased a nice cast iron Dutch oven.  That year I received one for Christmas, but the price of beef short ribs, at least locally had gotten ridiculous.  So, I tucked the recipe away for another day.  As luck would have it, one of the cuts we received when we purchased an 1/8th of a grass fed cow was short ribs.  So, today is the day for short ribs!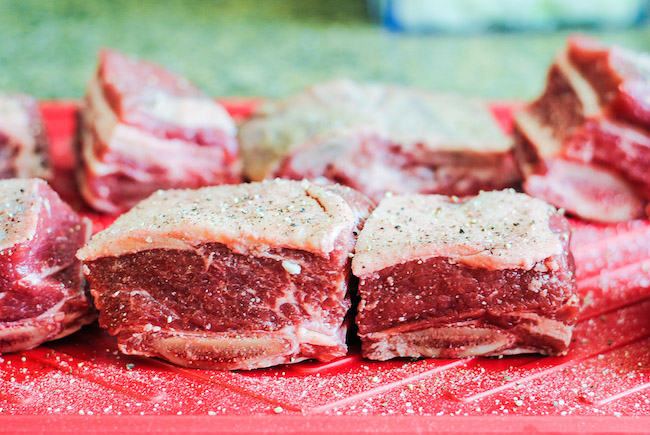 Braising the ribs allows you to infuse the meat with deep, rich flavors and makes them fall off the bone tender.  The key to this recipe, as always, is to start out with great quality meat.  If you have read previous beef posts of mine, you know that when it comes to beef I prefer grass fed.  Grass fed beef has better flavor, is leaner, and is healthier for you.  All of your ingredients should be of high quality and the freshest you can get. That includes the wine!  Remember, you should never cook with a wine that is not good enough to drink.  If it tastes bad in a glass, it's not going to taste any better in your dish.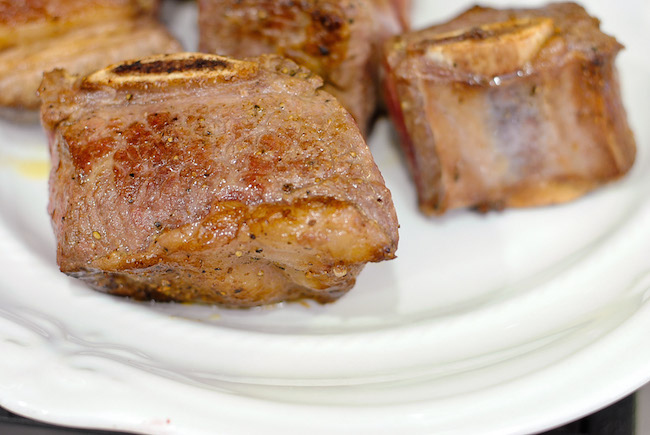 The first step in this recipe is the searing or browning of the beef ribs.  It is very important to get a nice, golden brown crust on the ribs prior to braising them in the oven.  I chose to sear the ribs using butter instead of oil.  I think butter creates a nice crust on the meat and adds a little richness to the braising liquid which later becomes a sauce.  I like KerryGold brand butter because it comes from 100% grass fed cows and has a rich taste and color.
After searing the ribs and removing them from the pan, the next step is sautéing the onions, garlic,celery, and carrots.  It is very important during this step to scrape up all the little brown bits left in the pan from searing the ribs.  They are little golden nuggets of flavor.  Whatever brown bits that remain in the pan will be deglazed when you add the red wine.  Its important during the deglazing step to let the wine cook down to about half before adding the beef stock and the short ribs back to the pan.  The allows a lot of the alcohol to cook off and the flavors of the wine become concentrated and more intense.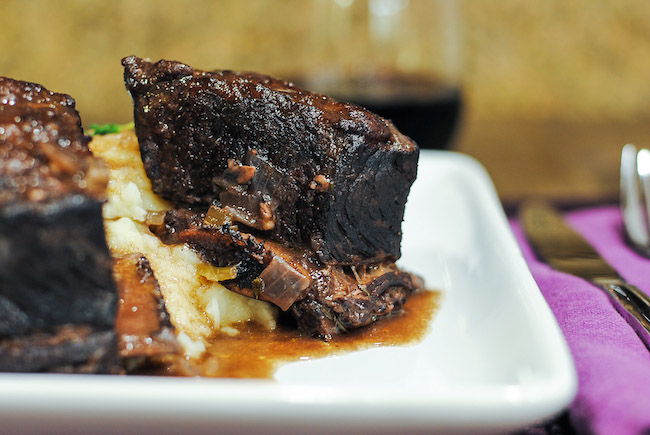 These red wine braised short ribs are great served over mashed potatoes.  In this recipe I added a little kick to the potatoes. I cooked and mashed the potatoes together with parsnips, then whipped them until creamy.  The parsnips give a little peppery kick to plain ole mashed potatoes.  Even if you don't like parsnips or have even tried them,  you really need to give this recipe a try.  The flavors of the braised ribs, wine sauce, and the mashed veggies together are a little slice of heaven! Give this recipe a try and leave me a comment to let me know how it turned out.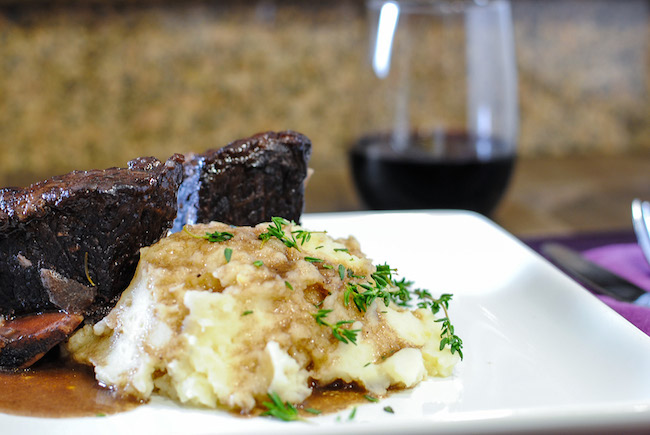 Since we seem to be heading for an early spring and warmer weather here in northern California, this will most likely be my last non-grilled post for a while…yay!
Cheers to your grilling  / cooking success!!
SUGGESTED WINE PAIRING:
Red: Cabernet Sauvignon would be my first choice but feel free to try it with your favorite red.  I would go with something with rich fruit and strong tannin and acid structure.
White: Suggest sticking with a red wine for this recipe.

| | | |
| --- | --- | --- |
| Red Wine Braised Short Ribs | | Print |
Prep time:
Cook time:
Total time:
Ingredients
2 tablespoon - butter (can use oil)
4 pounds - bone in beef short ribs - cut crosswise between bones
1 bunch - celery - leaves removed and cut into ½ inch pieces
3 - medium yellow onions - diced
3 - carrots - peeled and chopped
1 head - garlic - minced
1 quart - beef stock - prefer organic
1 bottle - Red Wine - something with bold fruit and good tannic structure
4 sprigs - fresh thyme
2 - bay leaves
1 teaspoon - salt
1 teaspoon - black pepper
Instructions
Pre-heat oven to °350 F. Season short ribs generously with salt and pepper.
Heat butter in large Dutch oven over medium-high heat. Working in 2 batches, brown all sides of the short ribs until crusty brown. About 8-10 minutes per batch. Remove ribs to plate and set aside.
Saute celery, onions, carrots, and garlic until tender. Scrapping up the brown bits left on the pan.
Add thyme, bay leaves, and salt and pepper. Deglaze vegetables with red wine and reduce to half.
Add short ribs back to pan and pour in beef stock. Make sure the ribs are covered by the liquid. Cook ribs in pre-heated oven for 2.5 - 3 hours or until meat falls off the bone. Allow ribs to cool slightly in the liquid before removing. Strain remaining liquid and reserve for sauce.
Reduce reserve liquid to half in a medium saucepan over medium heat. Add a touch of butter at end to finish.
Serve ribs over mashed potatoes and parsnips and garnish with fresh thyme.
Get our Free Winoze Wine & Cheese Pairing Guide