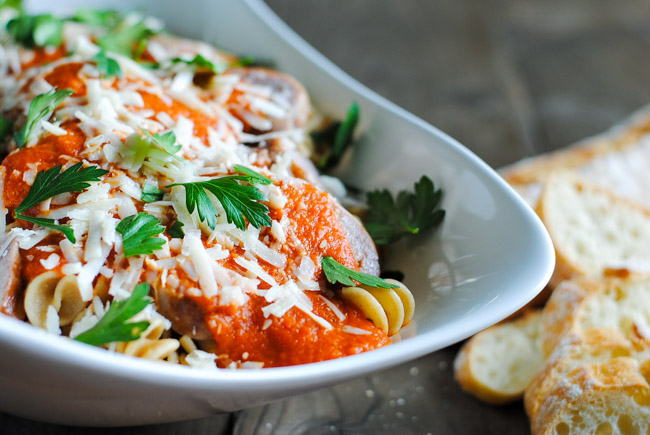 Happy Fall grillers!  I am just getting back in the cooking groove after another hand surgery two weeks ago.  It was killing me to not be able to cook there for ten days!  So happy that the cast the doc just put on allows me enough functionality to get back at it! Hope the doc does not read this, he may not be as thrilled as I am about it.  Having said that, I have learned to do a lot left handed ( knife skills are suffering though).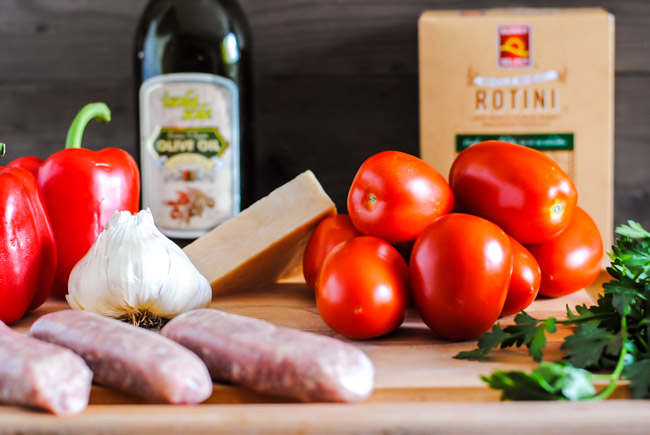 Right before surgery I was lucky enough to get a hold of fabulous wine, Alicante Bouschet, from our good friends at Oakstone Winery just prior to its release.  The wine is actually bottled under their Obscurity Cellars label.  If you have never experienced a Alicante Bouschet and like big red wines, it is a must try.  Not only is it an amazing wine, it's fun to pronounce.  I will be writing more about the wine itself in the wine section of the blog very soon.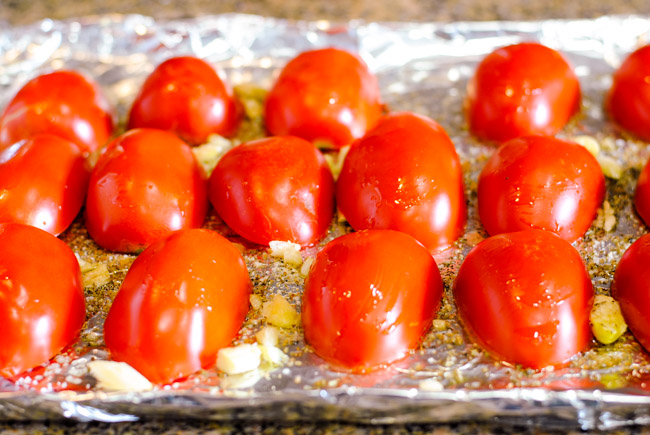 Most of the time, I prepare a recipe then look for a wine to pair with it.  This is a case where I started with the wine and then came up with a recipe to pair with it.  The first attempt sounded good on paper, but fell short of what I was looking for.  It was a grilled Italian sausage in a french roll, topped with a roasted tomato and red pepper sauce and mozzarella and Parmesan cheeses.  It sounded like a great idea for the kick off of football season.  I loved the flavors and they paired well with the wine, but it just was not as pleasing to the eye as I hoped.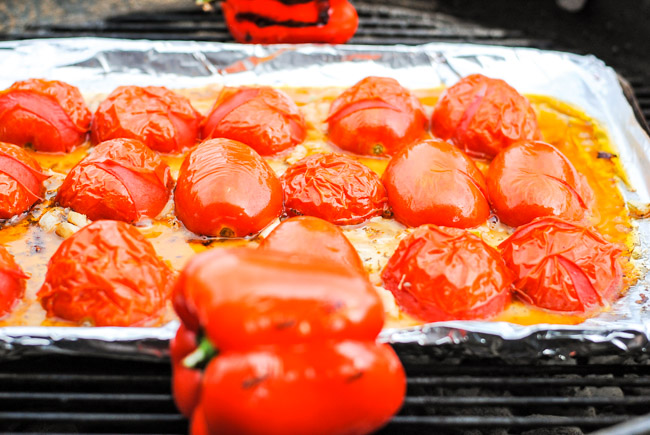 So back to the drawing board I went.  At that point Mrs. GW decided to provide some feedback.  She said "the sauce is amazing, but I really think it belongs on pasta".  The funny thing is, pasta was my original thought, but I was looking to do something a little different.  Just goes to show you, sometimes you need to stick with the basics and with what makes sense.  So, we were forced to crack open another bottle of Alicante Bouschet and test another recipe.  I know, it sucks to be us!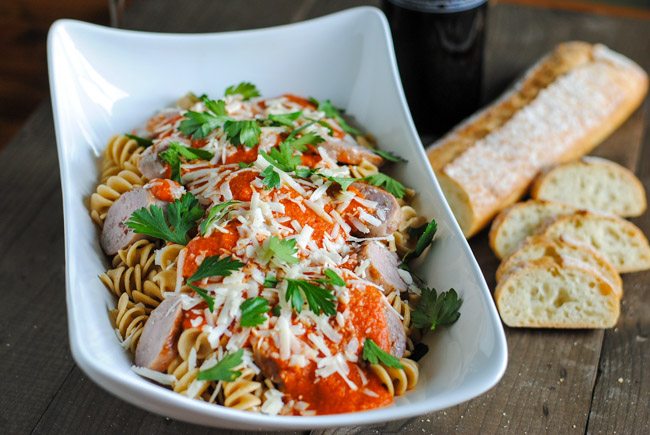 I roasted the tomatoes on the grill to give them a little smoky flavor and added the roasted red bell pepper to give it a little kick and some different color and texture.  The acidity in the sauce matches up well with the acidity and tannins in the Alicante Bouschet.  The grilled Italian sausage adds another level of texture and a smoky spicy kick.  I used sweet Italian sausage here because my wife prefers the sweet, but you can certainly use hot or spicy Italian sausage for a little more zing.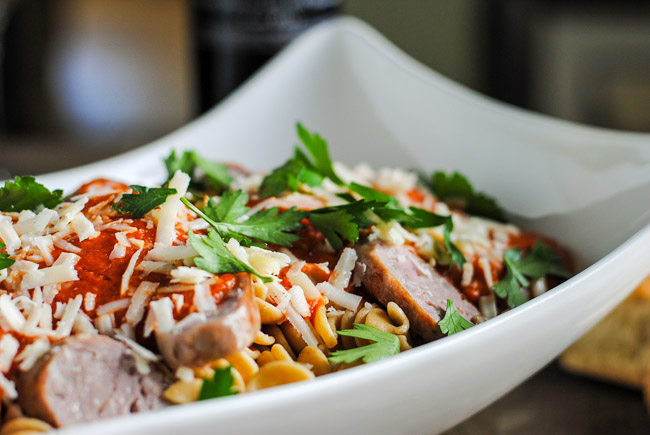 All the flavors in this dish go really well together, but the star is definitely the sauce.  The sauce is so versatile and can be used on pasta dishes, sandwiches, over other meats, and in casseroles.  The possibilities are endless.  Basically anywhere you would use a tomato sauce, you should try this sauce!
Try this recipe, and the wine of course, and leave me a comment to let me know how it turned out and your thoughts.
Until next time, heres to your grilling successes!
Suggested Wine Pairing:
Red: Alicante Bouschet , or a big Zinfandel or Cabernet Sauvignon
We paired it with Oakstone Winery's Alicante Bouschet which was fabulous!!
White: Chardonnay or Pinot Grigio / Pinot Gris

| | | |
| --- | --- | --- |
| Pasta with grilled tomato sauce and italian sausage | | Print |
Prep time:
Cook time:
Total time:
Ingredients
2 lbs - Roma or Plum tomatoes - halved lengthwise
2 - Red Bell Peppers - whole
4 cloves - Garlic - rough chopped
2 teaspoon - dried Italian herb seasoning
½ teaspoon - sugar
1 teaspoon - sea or kosher salt
½ teaspoon - ground black pepper
2 tablespoons - olive oil
3 links - Italian sausage - sweet or hot
14 oz - Whole Wheat Rotini (can sub with your favorite pasta)
¼ cup - Parmesan cheese - grated
2 tablespoons - Fresh italian parsley - rough chopped
Instructions
Prepare charcoal or gas grill to 400° F.
Line rimmed flat grill pan with foil
Pour olive oil over the foil and sprinkle with the garlic, Italian seasoning, sugar, salt, and pepper.
Place tomatoes cut side down on the foil lined grill pan and roast on the grill for 30 minutes ( or until skins will lift from tomatoes).
Brush the red peppers with olive oil and place directly on the grill next to the tomatoes. Roast peppers until they have a nice char on all sides and are soft. (20-30 mins)
Remove tomatoes from grill and set aside to cool.
Remove peppers from grill and place in a medium size bowl and cover with plastic rap. This will steam the peppers and make the skins easy to remove.
While the tomatoes and peppers rest, start the water boiling for the pasta and grill the Italian sausage to an internal temp of 155° F.
Remove the sausage from the grill and set aside. Cook pasta as per package instructions.
Remove the skins from the cooled tomatoes and discard. Scrape everything from the foil lined grill pan into the food processor into a food processor (tomatoes, garlic, oil seasonings, juices etc).
Remove the skins, core, and seeds from the red peppers and toss into the food processor. Process until sauce of smooth consistency is formed. Reheat the sauce in a pan.
Place cooked pasta in a large bowl and top with sliced Italian sausage, tomato sauce, parmesan cheese, and parsley.
Enjoy!
Get our Free Winoze Wine & Cheese Pairing Guide