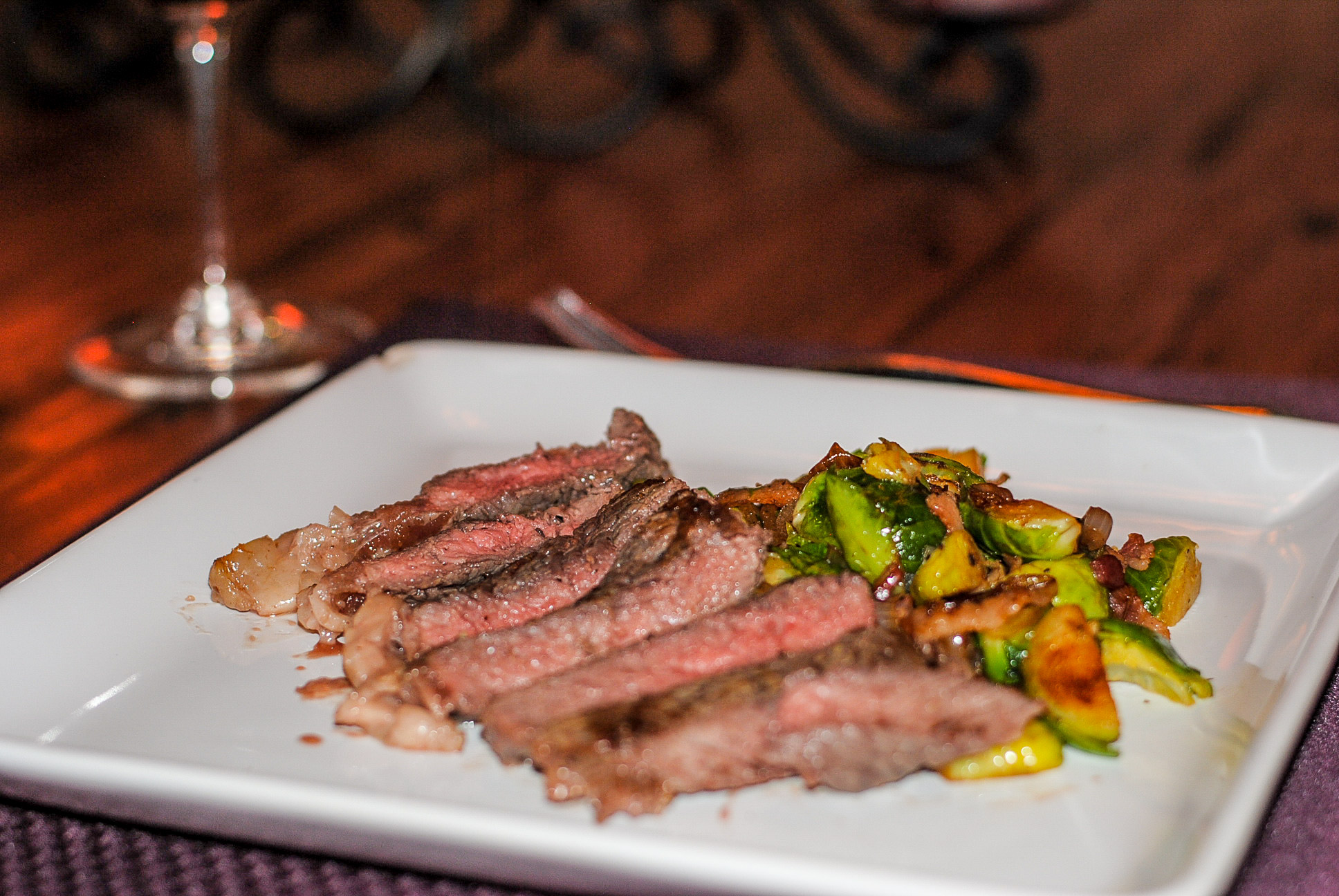 A very Happy New Year to everybody!  It's hard to believe we are already almost half way through the first month of 2016.  I hope everyone had a wonderful holiday season spent with family and friends, and of course great food.  2015 was a year filled with change and new adventures, but a great year.  2016 is off to a great start and I hope it is for you as well.
I must have been a good in 2015 as the family and Santa was very good to the Grilling Wino.  As is the case every year, I received some great grilling and cooking gifts.  In the months to come I will be sharing and reviewing those gifts with you.  I'm going to start today by showing you how to cook an amazing steak with one of the gifts that has been getting a lot of use lately.  This item has been around for about 200 years and during the first half of the twenty century you could find one in almost every kitchen in America.  Of course, I am talking about the Cast Iron Skillet.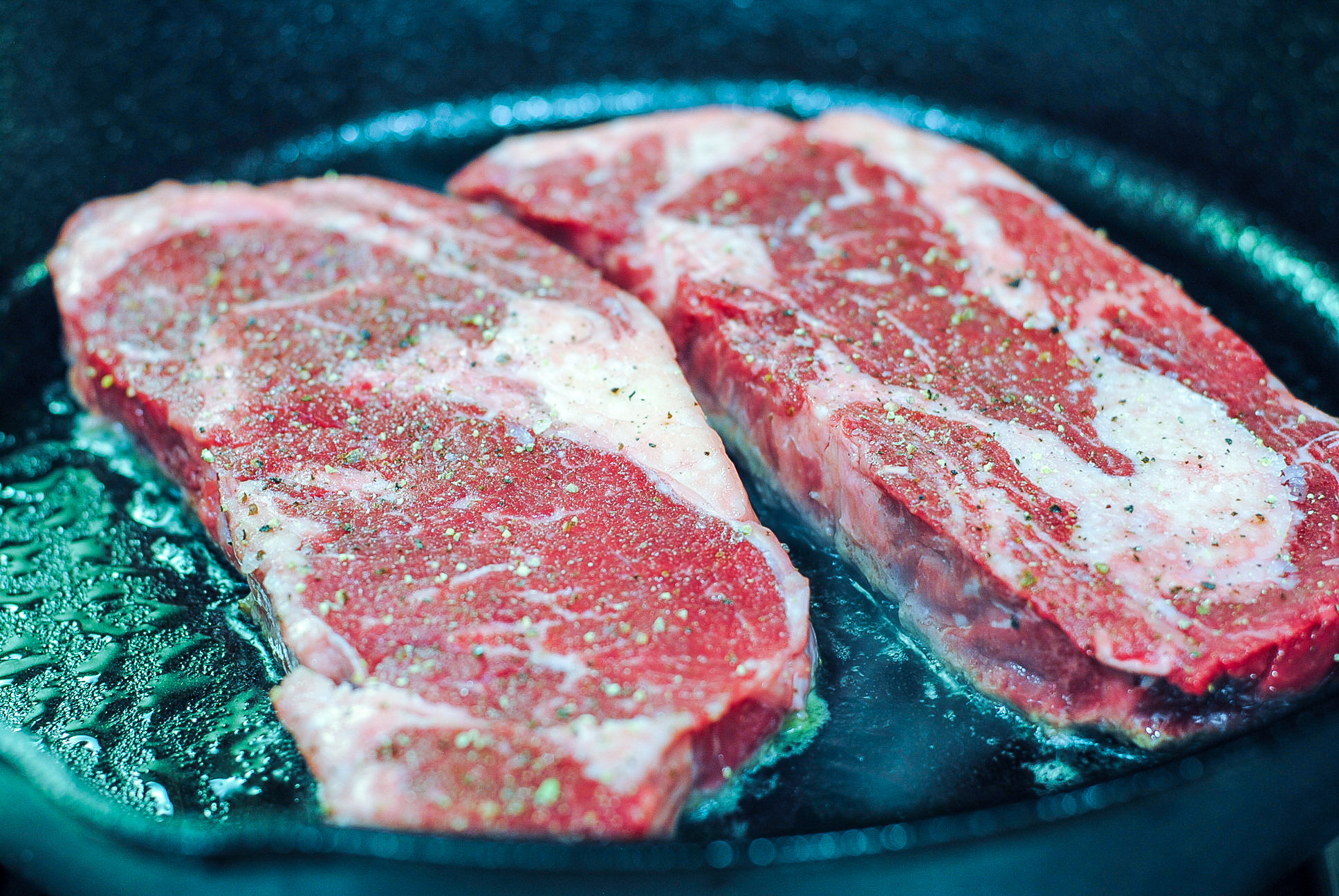 I'm not sure there is a better, faster, or easier way to cook the perfect steak than in a cast iron pan.  The beauty of cast iron is its versatility.  It can be used over a fire, on the stove, in the oven, or over the grill with the same great results every time!  My first experience with cooking steaks in cast iron was actually done in a wood fired pizza oven and they came out melt in your mouth good.
The first key to success is to start with a high quality cast iron skillet like the ones made by Lodge.  Lodge has been around for over 100 years and is currently the only cast iron pan manufactured in the U.S.  The second key is a good quality steak.  I personally prefer grass-fed beef for the flavor and it's just better for you.  The third and final key is the cooking process.  If you follow the cooking process in this recipe you will get a perfectly cooked medium rare steak every time.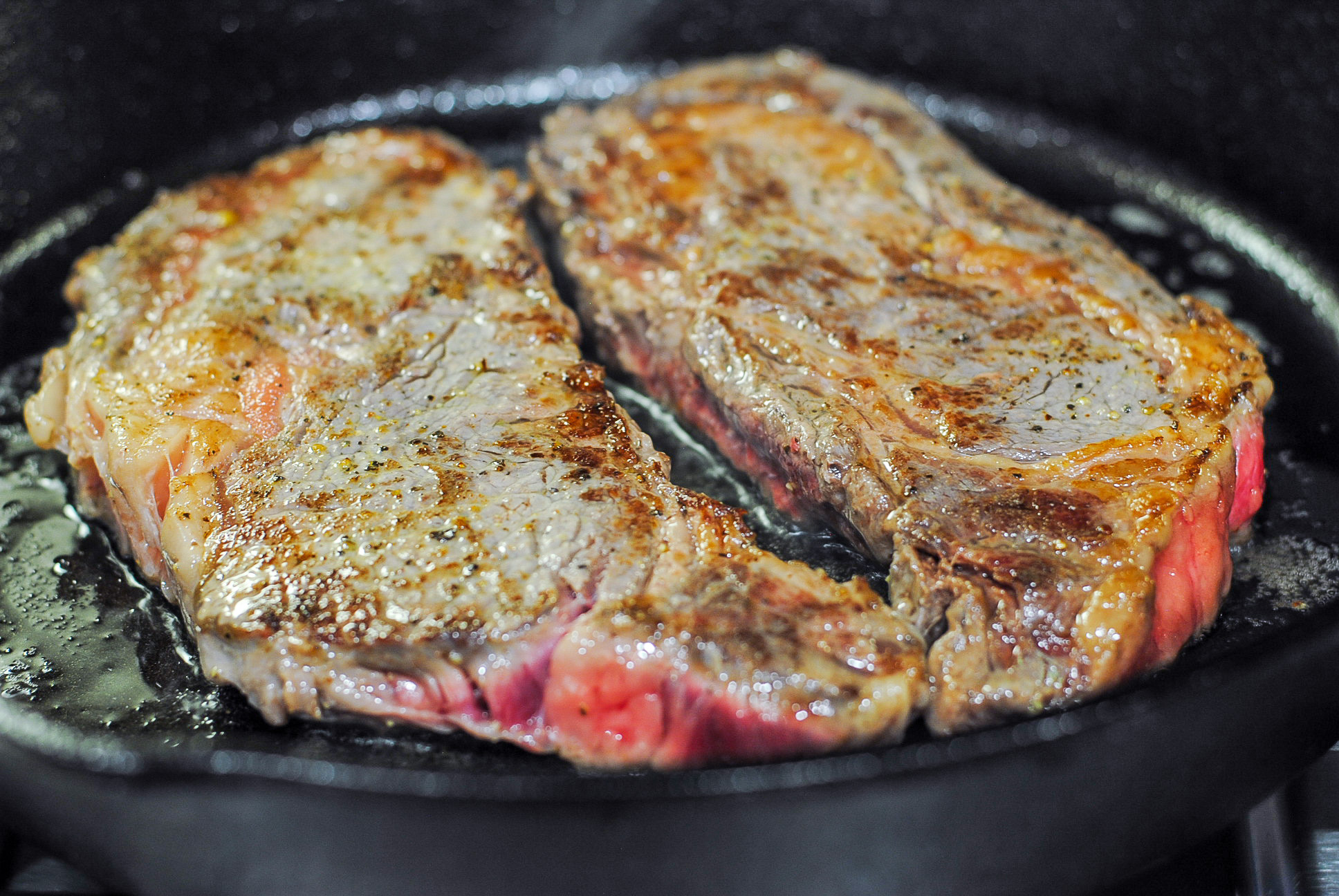 I have used this process to cook several different cuts of steak and have achieved the same fabulous result each time.  Filet Mignons, New York Strips, T-Bones, and Rib Eyes all come out mouthwateringly juicy!  For this dinner I cooked two 10 oz Rib Eyes, grass-fed or course. If you like your steak closer to rare, then you will want to shorten the oven cook time.  If you like your steak cooked closer to medium, then you will need to lengthen the cooking time in the oven.  I firmly believe that the further you cook a steak past medium rare, the more flavor you are cooking out of the steak and hence why A-1 sauce was invented.  Just my humble opinion.
I generally season my steaks liberally with only sea or kosher salt and fresh ground black pepper to enhance the natural flavor of the steak not mask it.  However, depending on my mood, I have been known to top a steak with crumbled Blue Cheese, or caramelized onions, or sautéed mushrooms.  However, my rule of thumb on toppings is less is more.  We want to enhance the steaks natural flavor not smother it.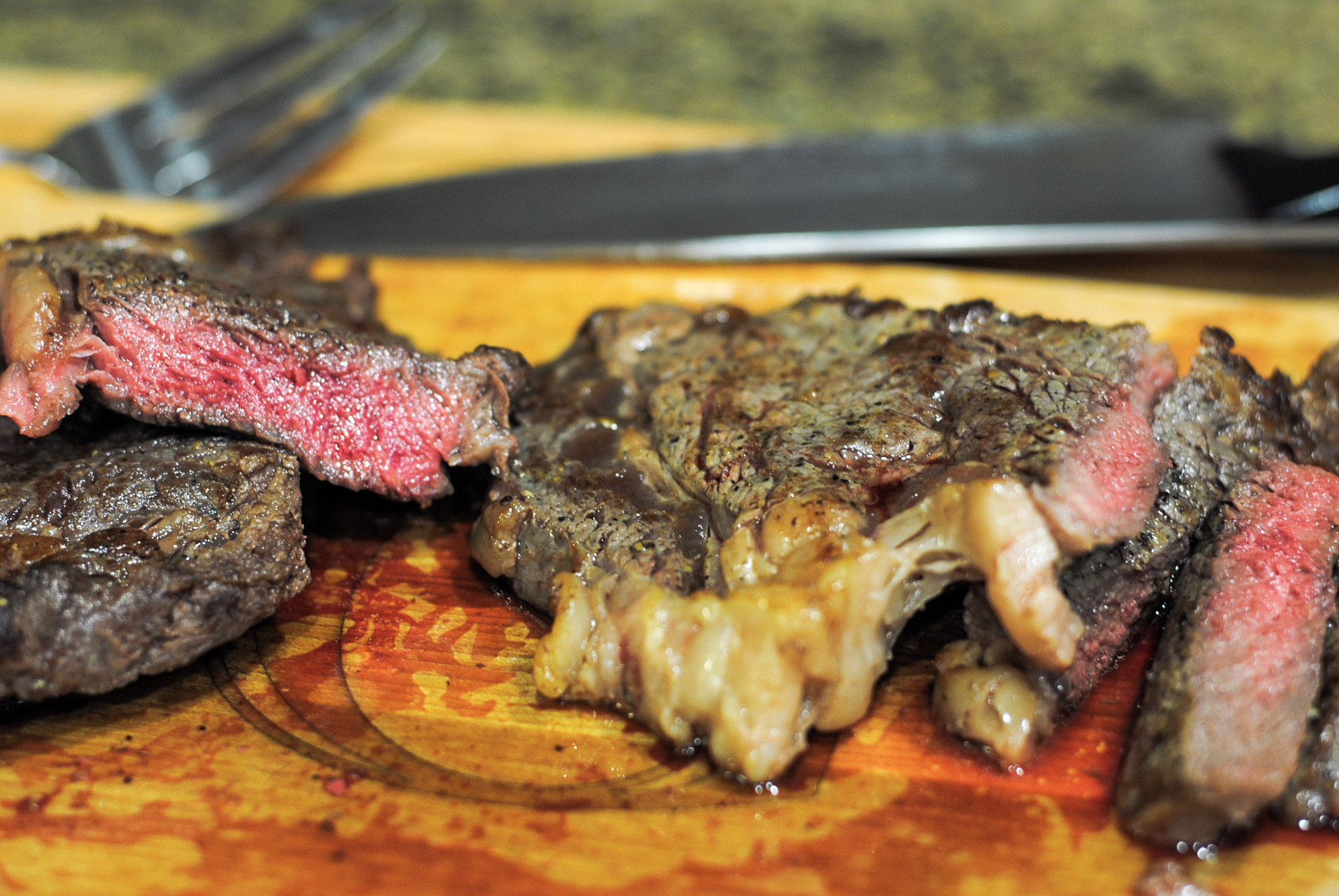 This cooking process can also be done on the grill by searing the steaks over high direct heat and then moving to indirect heat to simulate finishing in the oven.  Give this recipe a try and leave me a comment to let me know how it turned out. Enjoy!
Cheers to your grilling success!
Suggested Wine Pairing:
Red: Cabernet Sauvignon
White: Go with a Red Wine!
Wine Note: I prefer a big heavy Cabernet Sauvignon with steak, but since the wine rack is currently void of any Cabs, I paired these steaks with a big heavy Old Vine Zin!  Really you can pair with any red wine that has good acid and balance.

| | | |
| --- | --- | --- |
| Perfect Pan Seared Rib Eye Steak | | Print |
Prep time:
Cook time:
Total time:
Ingredients
2 - 10 oz. Boneless Rib Eye steaks 1½" thick ( I prefer grass-fed)
Canola oil - to coat steaks
Kosher salt and fresh ground black pepper.
Instructions
Remove steaks from fridge and let come to room temp ( about 15 mins). Brush steaks lightly with oil on both sides and season each side generously with salt and pepper.
Place cast iron skillet in cold oven and heat oven to 500° F.
Once oven has reached 500° F remove skillet from oven and place on range over medium heat for about 5 mins.
Immediately place steaks in the center of hot, dry skillet and cook for 30 seconds then turn steaks with tongs and sear the second side for 30 seconds. Immediately put skillet back in the oven and cook for 2 mins. Turn steaks again and cook for another 2 mins then right away remove steaks from pan and let rest on cutting board loosely covered with foil. Let rest for 2-5 mins.
Serve steaks whole or sliced thinly across the grain.
Enjoy!
Notes
The time in this recipe is for a medium-rare steak. If you like your steak cooked closer to rare, then subtract 1 min. from each oven turn. If you like your steak cooked closer to medium, then add 1 min. to each over turn.
Get our Free Winoze Wine & Cheese Pairing Guide