I wanted a place where you can easily see my favorite list of tools and resources.   I have my tried and true favorites that I have used for years.   I will also share with you items that have become my new favorites.  Also, as I get asked this a lot, I will share with you the tools I used for starting this blog.  They have been invaluable to me and without their help, I would have never been able to get started so smoothly and easily.  Please feel free to email me at steve@grillingwino.com if you have any questions about any of these.
Note:  Some of the links on this page are affiliate links.  What that means is that I get a small commission if you decide to purchase some of these tools.  It does not change the cost to you and helps to keep the Grilling Wino up and running.  In saying that, however, I would never recommend any item I have not tried myself and fallen in love with.  My goal is to help others have a better experience with food, grilling and if you so desire in starting your own food blog.
Grilling Tools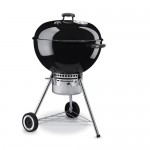 I have owned quite a few grills over the years. Gas, charcoal, expensive and inexpensive.  One of my favorite everyday cooking grills, to this day, is the Weber Kettle.  It was the first grill I ever owned and I just recently purchased a new one. To be completely honest, I do prefer cooking on charcoal to gas. I just think the flavor of the food is better and the temperature is easier to control.  Some of the things I love about the Weber Kettle are, the even cooking and the ease of creating different temperature zones.  Weber just makes quality stuff and is a great value.  My latest Weber is a 22.5" One Touch Gold Grill.  What a great idea to add an enclosed ash catcher to the good ole Weber kettle design.  It keeps the ash from being blown in the winds, but better yet, it keeps my ash-eating dogs out.  The second great improvement to the Weber Kettle is the hinged panels in the grate. I use indirect heat a lot and the gate makes it easy to add more charcoal if needed.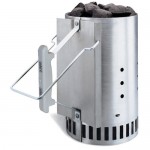 The best $14.99 you will ever spend as someone who grills with charcoal.  Sometime back, I abandoned the tradition of forming the charcoal in a pyramid, dousing with lighter fluid, and putting fire to it.  One of the best grilling decisions I have made.  This is hands down the best way to light charcoal.  No dangerous stinky lighter fluid to deal with.  No cords to drag out for an electric lighter.  The charcoal lights quickly and evenly!  When I decided to make the switch to a chimney starter I made the mistake of buying an inexpensive one to save a few bucks. Do not make this mistake.  You save $5 or so, only to have the unit burn out within a couple of months.  You get what you pay for!  Like everything Weber makes, this is quality.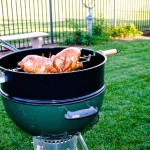 The Weber Kettle Rotisserie kit is the greatest addition to my arsenal of grilling tools to date.  This is without question my favorite way to cook chickens now.  The chickens come out  so tender, juicy, and evenly cooked.  I have also done pork butts on the rotisserie and they were equally as amazing.  I have plans in the near future to do both a leg of lamb and a standing rib roast on the rotisserie.  If you own a Weber kettle and do not have one of these rotisseries for it, I highly recommend getting one. You will not be disappointed!
FOOD BLOG TOOLS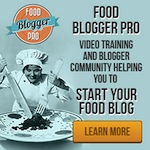 I cannot say enough about this program.  I joined it when I was first getting started and I don't know what I would have done without it.  It is a step by step video course in how to start, set up and maintain your own food blog.  Bjork and Lindsay have their own food blog at Pinch of Yum and they are kind enough to share their mistakes and their successes.  It even comes with a food photography course that has definitely made my food photos improve greatly.  I am still learning and have still not finished all that Lindsay and Bjork have to offer.  I know you will find this an invaluable tool if you have ever considered starting your own food blog.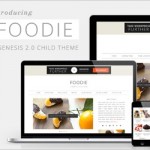 When I first started my blogging journey, I started out with a basic word press site, but quickly realized I needed something that suited a food blog better.  I found this theme through Food Blogger Pro and liked the simplicity of it.  I didn't want my site to be cluttered looking or gawdy in any way.  This fit my needs and I have been loving it since the beginning.
Get our Free Winoze Wine & Cheese Pairing Guide