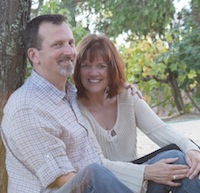 My name is Steve and I am a "Grilling Wino"
I was born in San Jose, California, but my family moved to Oregon when I was 9 years old.  I spent the next 30 years of my life in the Pacific Northwest.  My father grilled all the time while I was growing up.  It was a skill he picked up from his father when he was young, always helping him cook for large groups of people.  Both my father and my grandfather worked in the briquette business, which probably explains why they were drawn to grilling.  I learned the basics of grilling from my dad but was only mildly interested early on.  My mom was a good cook and a great baker.  She taught me the basics of cooking and I suspect this was to prevent me from being reliant on a woman or living off of fast food.
Sadly, I really did not develop a great appreciation for the taste of fine food or expand my grilling skills until 2003.  That was when I moved from Oregon back to California.  I spent the first year and a half staying with my brother at his B&B in the foothills of the Sierras.  The B&B is smack dab in the middle of a quickly emerging wine region.  Prior to my move back to California I was strictly a beer drinker, thinking that all wine was simply sour grapes.  My brother started dragging me out wine tasting on my days off.  Since I didn't know anyone in the area and had nothing better to do, I thought, why not.
My palate was pretty limited when I first started tasting wine.  I found most white wine too sweet and most red wines too harsh.  I started out drinking Merlots.  As I got more wine tasting trips under my belt, my palate matured and I was drawn to bigger, heavier red wines.  The area is known for big Zinfandels, Cabs, Syrahs, and Petite Sirahs (one of my favorites).
Another thing happened around that same period of time; I became hooked on the Food Network.  It started with an addiction to "Everyday Italian" and Giada De Laurentiis (I do love Italian food and she is very easy on the eyes).  Then I found my hero, Bobby Flay!  My wife says I have a "man crush" on Bobby. I am not so sure about that, but he is a cooking god!  Many chefs have influenced my cooking, but none more than Bobby Flay!
The final event that led to the creation of the Grilling Wino was stumbling across Gary Vaynerchuk and Wine Library TV.  I love Gary and his passion for life and wine.  I hope to one day have the palate that Gary does.
This journey of discovering wine and great food over the last decade has brought me such great joy.  It has also given me the opportunity to meet some really wonderful people.  None more wonderful than the love of my life, Julie!  She inspires me daily.  The Grilling Wino is the next phase of my food & wine journey and I hope you will join me.  Together we will find the love, joy, and passion in great food and great wines!
Thank you so much for checking out my blog.  Happy Grilling!
Steve
Get our Free Winoze Wine & Cheese Pairing Guide