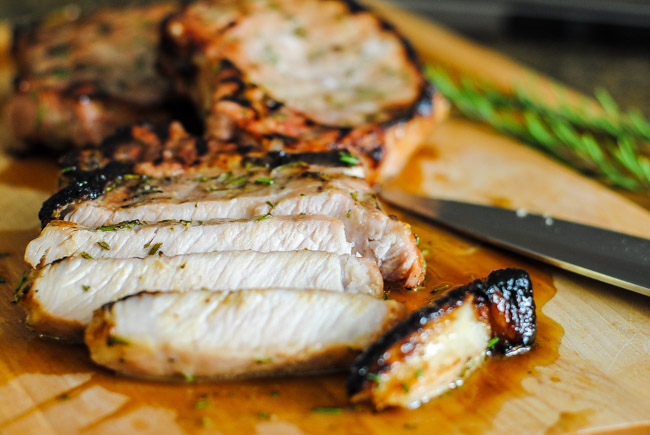 We recently had a gathering in South Lake Tahoe with some family and friends and I was looking for a simple grill recipe to feed a group of 10 people.  Since I still had my right hand in a cast from hand surgery, I needed a recipe with not a lot of prep but with great flavors.  While poking around on Pinterest I stumbled across a recipe for grilled Pork Chops with  a Honey, Rosemary glaze posted by plainchicken.com.  The recipe originally came from Simply Grilling: 105 Recipes for Quick and Casual Grilling by Jennifer Chandler.  I have yet to have the chance to read Jennifer's book, but if this recipe is any indication, it's a must have!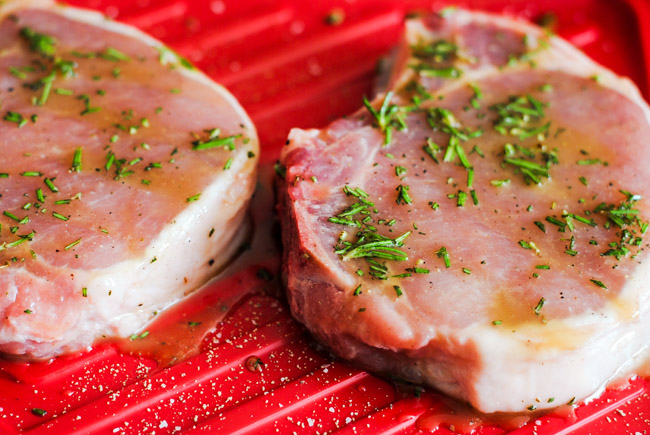 I love the smell and flavor of Rosemary and use it often.  It helps to have a neighbor with a giant Rosemary bush that grows through our fence giving us an endless supply.  It is great with pork, lamb, and roasted potatoes.  Mmmmmm, red potatoes coated with olive oil, fresh chopped Rosemary, and roasted in the oven or on the grill are to die for!  But I digress, back to the pork chops.  This recipe is really one of the best pork chop recipes I have tried and is so simple.  Your friends and family will think you are a culinary genius and master griller when they sink their teeth into these chops!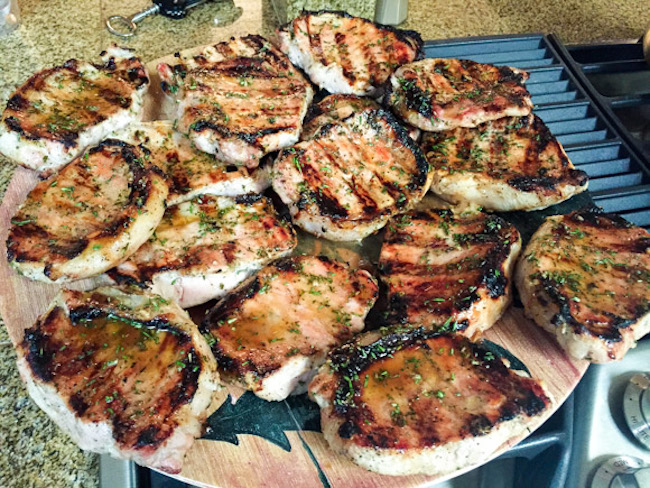 When I am doing pork chops for a large group, I like to get one of the giant pork tenderloins from Costco or Sam's club and cut it into chops myself.  As you can imagine, doing so with my hand in a cast was a bit of a challenge.  Mrs. Grilling Wino offered to cut them for me, bless her, but I am kind of a control freak when comes to cooking and must have my hands in every part of it.  I could buy them already cut from the butcher, but doing it this way works out to less than $1 a pork chop.  Gotta love a deal like that!  The photo above photo is of the chops I cooked in Tahoe shot with my iPhone.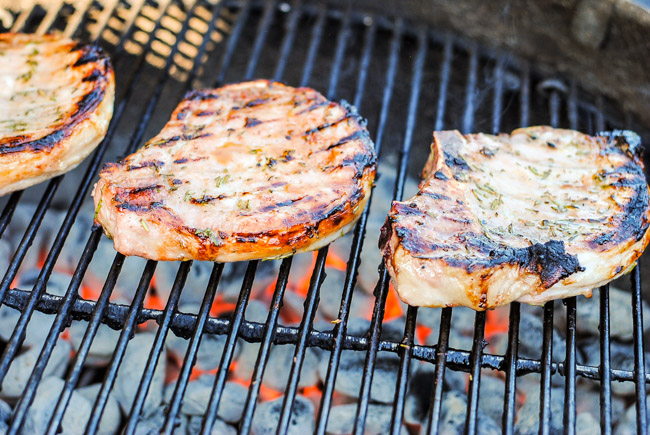 For this post, since I was only making a few chops, I decided to use center-cut bone in pork chops.  I think you get a little extra flavor with the bone in chops and they are less likely to get overcooked and dry out on you.  There is nothing worse than a dry, overcooked piece of pork.  The bone in chops were pretty reasonably priced as well.  I picked these up for about $2 a chop and they turned out tender and juicy.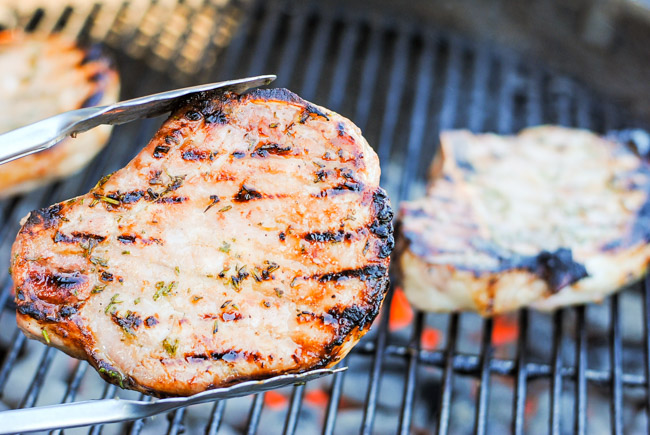 The glaze on these chops is really simple with only three ingredients.  You will notice in my recipe there is a fourth ingredient, white wine.  When I made these I used a very raw organic honey that was very thick.  When combining the honey, olive oil, and Rosemary, I was not happy with the consistency of the glaze and wanted to thin it out a little.  I used white wine because……well….I had a glass in my hand so it was handy.  You could also thin it with a little more olive oil, or water, or I think a little bourbon might be nice.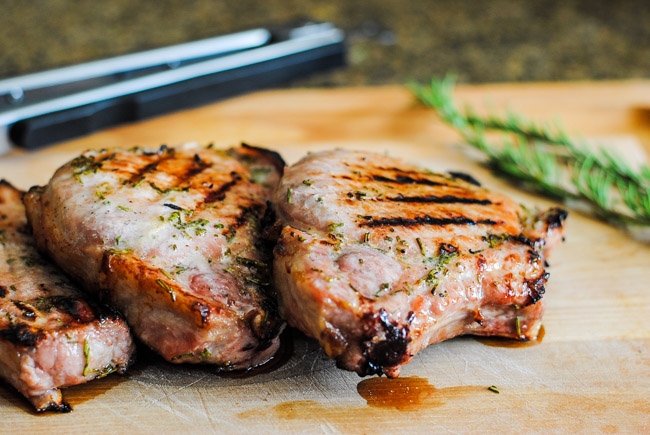 I like to use a reverse sear technique when I cook chops, but you don't have to. It's something I started doing recently with certain cuts of meat and I really like the way it turns out.  Basically, you cook the chops over indirect heat until they are about ten degrees from the desired doneness, then move them over to direct heat and put a nice sear on each side.  I think this process gives the chops more flavor and keeps them juicy.  If you decide not to use this method and just grill them over direct heat, they will still taste amazing!
Try this recipe out and leave me a comment here and let me know what you think. Enjoy!
Cheers to your grilling success!
Suggested Wine Pairing:
White: Sauvignon Blanc
Red: Grenache

| | | |
| --- | --- | --- |
| Grilled Pork Chops with Honey Rosemary Glaze | | Print |
Prep time:
Cook time:
Total time:
Ingredients
4 - Pork Chops - boneless or bone-in, about 1"-1¼" thick
¼ cup - Honey - I prefer raw organic or grilling honey
4 tablespoons - Olive Oil - divided
2 tablespoons - Fresh Rosemary - chopped
1 tablespoon - dry white wine - optional to thin the glaze if too thick.
Kosher Salt
Black Pepper - freshly ground
Instructions
Set up charcoal or gas grill for medium-high heat with direct and indirect cooking zones.
For the glaze: in a small bowl whisk together the Honey, Rosemary, 2 tablespoons of the olive oil, and white wine. Reserve half of the glaze in another small bowl to brush on the cooked Pork Chops
Lightly brush the Pork Chops with remaining olive oil and season both sides with salt and pepper. Then brush both sides of the chops with one bowl of the glaze.
Place the pork chops on the indirect side of the grill and cook for about 5 minutes then flip and cook for another 4-5 mins or until the internal temp is around 140° F.
Move the chops to the direct heat side of the grill and sear each side 1-2 minutes or until you get some nice grill marks and the internal temp is 150° F.
Remove Pork Chops from the grill and brush with the reserve Honey Rosemary glaze and let rest 5 minutes.
Serve and enjoy!
Get our Free Winoze Wine & Cheese Pairing Guide