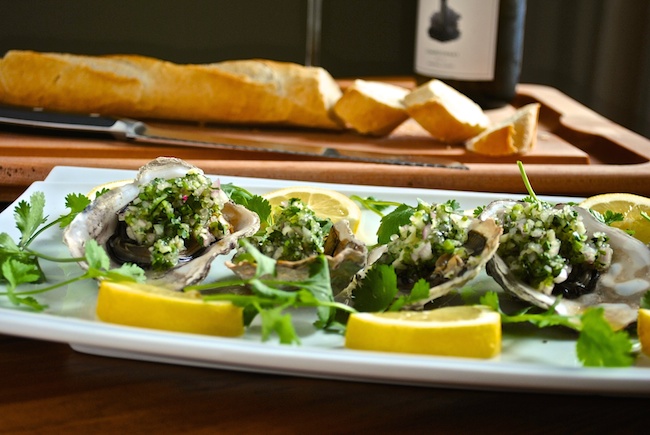 Raw or cooked?  Which do you prefer?  If oysters are your thing, I think you will love this grilled oyster recipe.
I have often heard the preferred way to eat oysters by most is raw.  Though I love most sushi, I cannot bring myself to eat raw oysters.  But grilled oysters I go crazy for!  Julie, my wife, can attest to that.  I have no problem sitting down and eating a dozen oysters one after the other.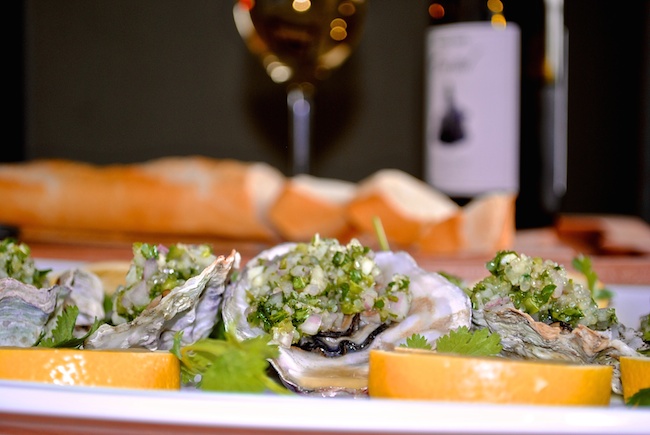 This Grilled Oysters with a Finger Lime Mignonette recipe was inspired by a couple of recent events.  The first being the order of finger limes I received last week from Shanley Farms.  That night after they arrived,  I had trouble going to sleep as the recipe ideas kept running through my head.  One that kept popping up was oysters.  The second event was a weekend trip to Bodega Bay with Julie.  The getaway was Julie's birthday present.  It was a gift for me as well. Not only did I get to spend a great romantic weekend away, alone with my wife, but I got to fill my belly a couple times with oysters! Mmmm.  Oh, I almost forgot, we tasted some really great wines as well, but that is for another post.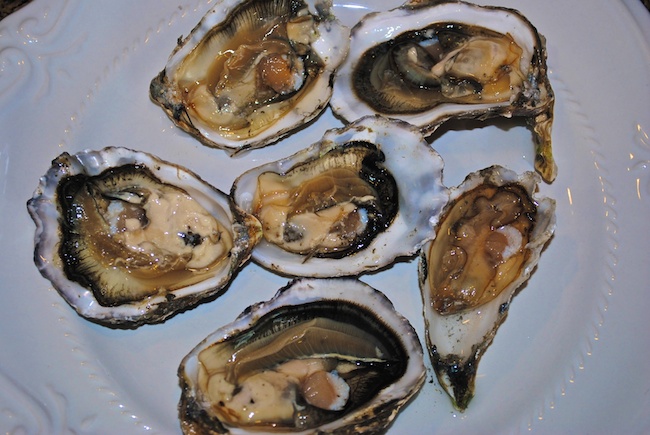 Today the focus is all about the oysters.  One would think that I would have satisfied my oyster cravings over the weekend.  Hmm, not so much.  I stopped at the fish market on the way out so I could bring some fresh ones home to throw on the grill.  My whole motivation was to be able to share this recipe with you.  Well, okay, maybe that's not 100 percent accurate.  There is a slim possibility I wanted to eat fresh oysters one more time.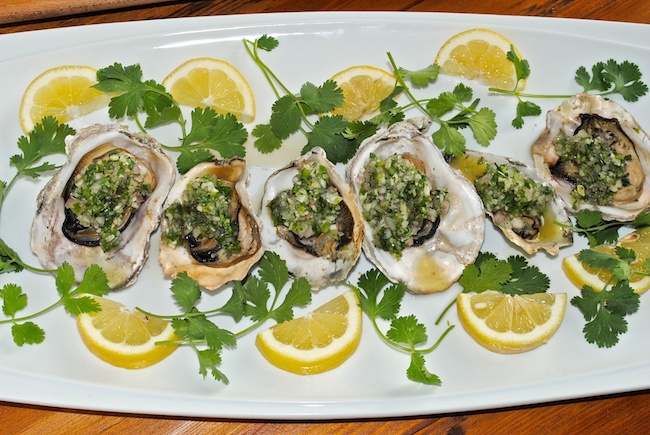 Traditionally grilled oysters seem to involve ingredients like butter, garlic, Parmesan cheese, barbecue sauce, and bacon.  Don't get me  wrong, I love love love all those things on my oysters!  But I was looking to do something different, lighter and fresher with this recipe.  The finger limes fit the bill perfectly and are a great costar without upstaging the oyster.  There is a good chance you have never heard of finger limes unless you are a chef, grow them, live in Australia, or stumbled across them in a specialty grocery store.  They are worth finding out about, I promise you!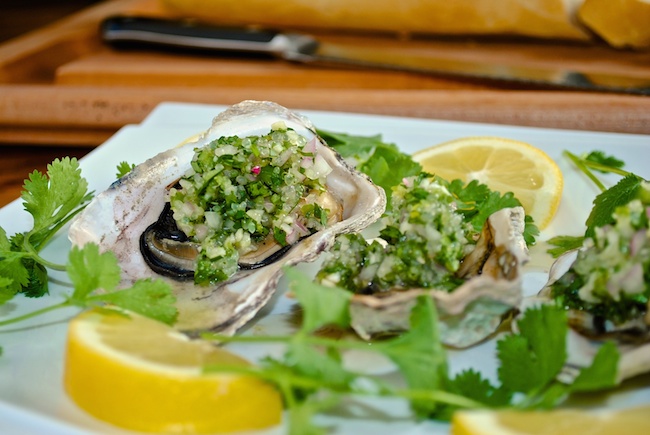 I really love what the finger limes bring to the mignonette (a sauce that contains shallots, vinegar and cracked pepper).  The different textures and flavors are a party on the palate! First, you get the soft sweetness of the oysters, followed by the heat of the jalapeño and the crunch of the shallot, then the bite from the acidity of rice wine vinegar, and just when you think there is no more, you bite down on one of the little citrus pearls from the finger limes and you get the blast of citrus magic.  The cilantro and honey smooth and round out the flavors.  It is a wonderful thing!  I hope you enjoy this recipe as much as I did.
Wine Pairing Suggestions: I actually paired these oysters with a Trader Joe's Coastal Chardonnay that is produced by Castoro Cellars in San Miguel, California.  You could also pair this with a Sauvignon Blanc or a Pinot Noir.
Until next time, Happy Grilling!
| | | |
| --- | --- | --- |
| Grilled Oysters with Finger Limes | | Print |
Prep time:
Cook time:
Total time:
Ingredients
10-12 – oysters
⅓ cup - rice wine vinegar
2 tablespoon – shallot, minced
2 tablespoon – cilantro, minced
1 tablespoon -Jalapeño pepper, minced(can also use a Serrano pepper)
2 cloves – garlic, minced
6 - finger limes
1 pinch - salt and pepper
Instructions
- Clean and remove the top shell (flat side) from oysters over a bowl to catch any oyster liquor that may escape. Add the liquor back to the oysters in the half shell and set aside. You can find a good video on shucking oysters here.
- Cut finger limes in half and gently squeeze out the little citrus pearls and set aside.
- Pour rice wine vinegar into a small bowl.
- Mince shallots, garlic, cilantro, and Jalapeno and add to rice wine vinegar. Hit with a pinch of salt and pepper. Stir together to form the mignonette.
- Gently stir the finger lime citrus pearls into the mignonette.
- Prepare charcoal or gas grill to medium high direct heat.
- Place oysters on the grill and grill until the liquid (oyster liquor) just begins to bubble, about 4 minutes.
- Remove oysters from the grill and place on a platter.
- Spoon small amount of the mignonette over each oyster-about 1-teaspoon.
- Garnish platter with lemon slices and sprigs of cilantro.
Notes
You can also add a dash of your favorite hot sauce for an extra kick.

Warning: Eating raw or undercooked shellfish may increase the risk of foodborne illness.