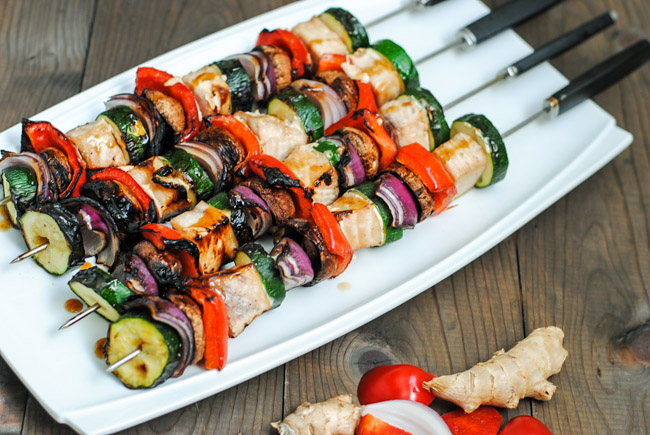 Fish is amazing on the grill.  But, let's be honest, most fish can be challenging to grill up.  We eat a lot of fish in the GrillingWino household.  About 75% of it is salmon.  If possible,  Sockeye salmon.  However, there are some other great fish out there that work nicely on the grill.  This Grilled Ginger SwordFish Kabob recipe showcases one of those fish in a beautifully tasty way!
My second choice after Salmon would be Swordfish.  Of all fish, I think Swordfish is the best suited for the grill.  It's like a fish steak.  It's dense and firm and does not fall apart.  Swordfish doesn't have the natural flavor that Salmon does, but it has great texture and soaks up marinade flavors nicely!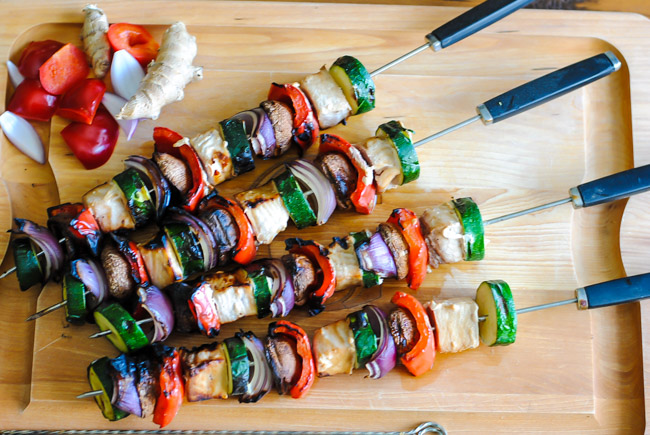 There are so many possibilities when it comes to marinades for Swordfish.  Just pick a region or ethnicity,  and infuse those flavors into the fish with a marinade.  It's a fish that plays nicely with Asian, Caribbean, and Mediterranean flavors.  In this particular recipe I pair it with Ginger.  A flavor found throughout Asian cooking.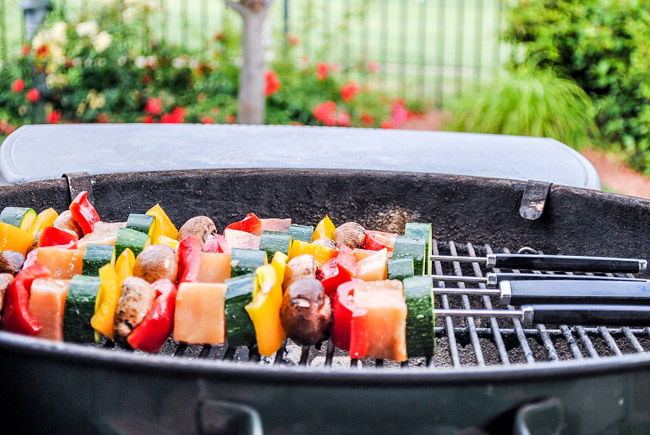 Swordfish is wonderful cooked just like a steak.  Give it a marinade, or some great spice, and toss it on the grill like a T-Bone.  But in this recipe I decide to go Kabobs!  For one, you get all that great flavor of the marinade infused in every grill marked little morsel.  Every bite pops with flavor. And for two, everyone knows that eating any kind of food off a stick is just plain fun!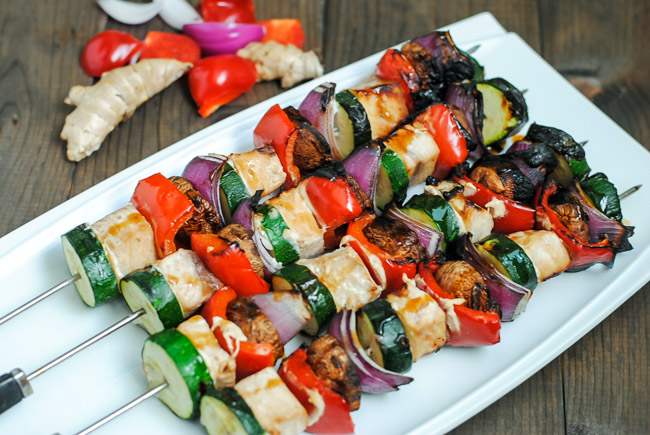 However, if eating food off a stick is not your thing, you can easily pop the grilled fish and veggies off the skewer right onto a bed of rice.  You could even drop it on a bed of lettuce for a kicka$$ salad.  As with most things I cook, I always make a little extra.  Take the leftovers from this recipe and throw them in some scrambled eggs, toss them in an omelet, or wrap them in a tortilla. Either way, it's amazing stuff!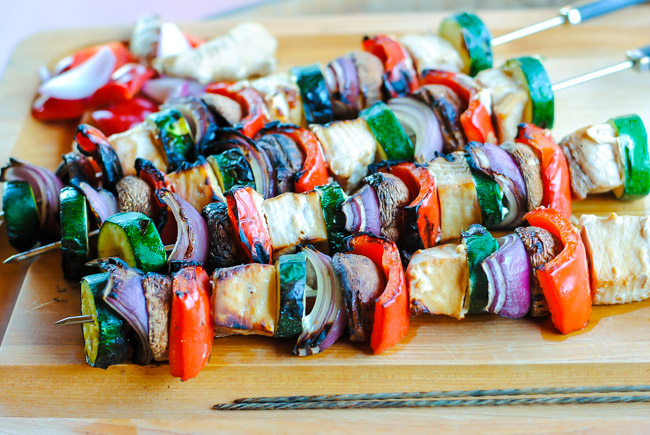 One thing I discovered while doing a little research on Swordfish, is that the FDA has suggested that Swordfish should not be consumed by wee-ones, pregnant women , and even women in childbearing years. Not that I have a great deal of faith in the FDA, but it is something to be aware of.  Because Swordfish is near the top of the food chain, they have the largest chance of having the highest concentration of Mercury in their system.  So like steak, don't eat it every day! Maybe try limiting yourself to once a month, or…..mmmmmm…..maybe once a week.  It will be harder to do after you have tried this meal.
Hope you enjoy this recipe.
Happy Grilling!!

| | | |
| --- | --- | --- |
| Grilled Ginger Marinated SwordFish | | Print |
Prep time:
Cook time:
Total time:
Ingredients
1 lb - Sword Fish
¼ cup + - Raley's Chefs Menu Ginger Sauce - or other ginger based sauce / marinade
1- Red Onion - peeled and cut into wedges
2 - Red Bell Peppers - cut into 2 inch pieces
2 - Zucchini - small cut into ½ thick slices
1½ cup - Baby Bella or Crimini Mushrooms - whole
2 tablespoons - Olive Oil
4-6 - skewers - metal, wood, or bamboo.
Instructions
Cut Sword Fish into 1 inch size chunks. Toss the fish gently in bowl with ¼ cup of marinade/ sauce and refrigerate for 2-4 hours.
If you are using wood or bamboo skewers you will want to soak them in water for at least an hour. The longer the better so why not soak them as long as the fish marinates?
While the fish is marinating, wash and cut the vegetables. Toss the vegetables with just enough olive oil to lightly coat them and hit them with a little salt and pepper. Set aside.
Remove the fish from the refrigerator about 30 minutes prior to cooking.
Thread the vegetables and fish onto the skewers in an alternating pattern. Discard the used marinade.
Place the skewers on a prepared gas or charcoal grill set for medium direct heat. Cook for 10-15 minutes, or until fish is cooked through ( rotating the skewers about every 2-3 minutes).
Drizzle kabobs with a little of the ginger sauce and serve over rice.
SUGGESTED WINE PAIRING:
Chardonnay – I paired this recipe with a 2013 Thomas Henry Chardonnay from Sonoma County.
Get our Free Winoze Wine & Cheese Pairing Guide