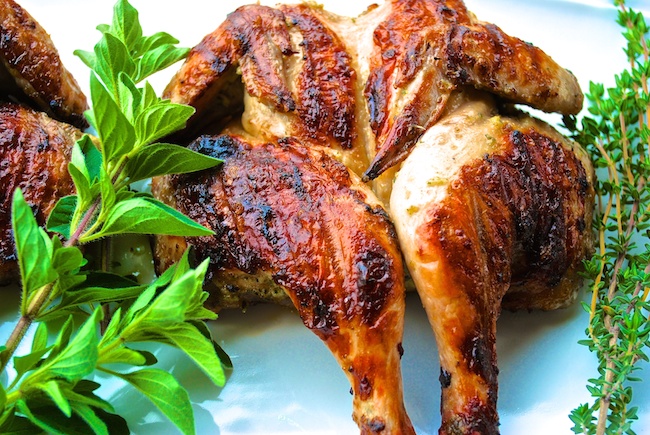 While meandering through the grocery store the other day doing the weekly shopping,  I stumbled upon some Cornish Game Hens.  I love Cornish Game Hens and realized we had not had them in quite some time.  One of the objectives for this weeks shopping was to bring home something different to grill.  As I stared at the little mini chickens in the freezer, I realized that I had never actually done game hens on the grill.  I had roasted them, baked them, and even cooked them in the CharBroil Big Easy, but never on the grill.  It was settled, Game Hens for dinner it is!
We had just received a wine shipment from the California Wine club and I wanted to include one of the wines in this meal.  I decided to go with the 2012 Santa Babara County Pinot Grigio from the Avelina Wine Company.  My goal was to not only serve the wine with the meal, but to incorporate it into the marinade for the hens as well.  Seemed like an ingenious idea!
I butterflied the game hens, which was so much easier than a standard chicken.  They cooked very evenly and pretty quickly.  Just like with my chickens, I like to sear them over direct heat on each side, then finish cooking them over indirect heat.  Butterflying the game hens also made for a really nice presentation.  The average size is usually about 1 1/4 lbs.  Given that the meat to bone ratio for these birds is small, they are the perfect serving size for the average person.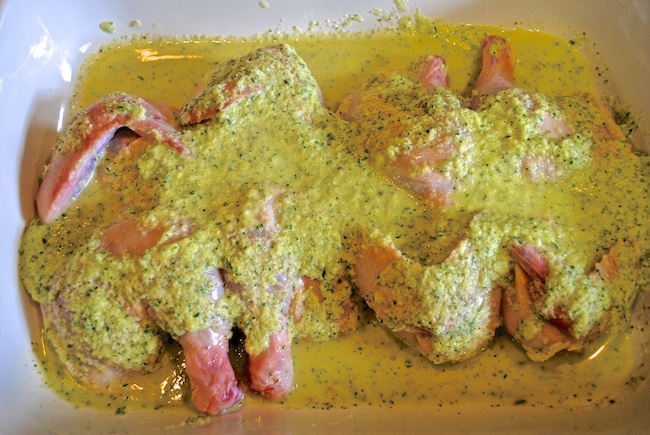 As it turned out the Pinot Grigio worked out well in the marinade.  A simple marinade of Pinot Grigio, olive oil, shallots, garlic, with fresh thyme and oregano from the garden was just what I had in mind for these delicate little birds.  To be honest, I usually stay away from Pino Grigio.  Most of them are too sweet for my palate, but this one was very different.  It was dry and had a smoky finish that went well with the grilled hens.  But as always, feel free to experiment with your own wine selections.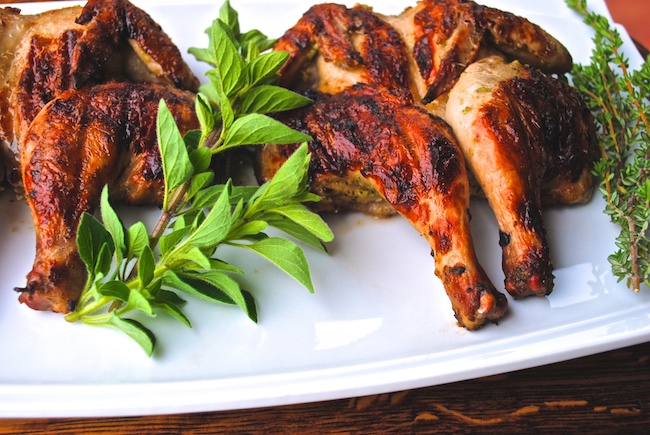 Give this recipe a try and leave a comment to let me know what you think.  It is very simple and you will not be disappointed.
Until next time, Happy Grilling

| | | |
| --- | --- | --- |
| Grilled Cornish Game Hens | | Print |
Prep time:
Cook time:
Total time:
Ingredients
2 - Cornish Game Hens – 1 ¼ pounds each
½ cup - Pinot Grigio or white wine of your choice)
¼ cup – olive oil
1 – shallot – medium, minced
2 tablespoons – garlic, minced
1 tablespoon – oregano – fresh, chopped
1 tablespoon - thyme – fresh, chopped
Instructions
- Butterfly the game hens and place in large baking dish (9" x 13") –[

i

]

[url href="https://www.youtube.com/watch?feature=player_embedded&v=JZTI2FoiCNY" target="_blank" title="

Buterfly

Chicken Video"

]

Watch Butterfly Video

[

/url]

.

[/

i

]
- Place all remaining ingredients in a bowl and mix with an immersion blender until well mixed (can also process in a food processor).
- Pour marinade over game hens and cover with plastic wrap. Place in refrigerator for at least 2 hours up to overnight.
- Removed from refrigerator 30 minutes before grilling. Shake or

wipe

off

excess marinade before grilling.
- Prepare grill with direct and indirect heat zones. Temperature should be 350-400°F
- Place game hens on the direct heats side and sear for 5 minutes on each side until skin is a nice crisp golden brown.
- Move the game hens to the indirect side of the grill and continue cooking (about another 20-25 minutes) until the internal temperature has reached 165°F
- Remove game hens from grill and let rest 5- 10 minutes before serving.
Suggested wine pairing: