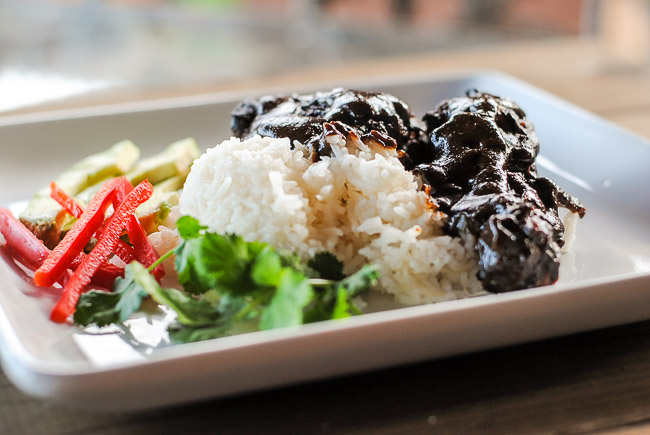 Olé for Mole!  If you like Mole Sauce, you are going to love this recipe for Grilled Chicken Mole.  If you have never tried Mole, what are you waiting for?  You really need to try it and today is as good a day as any.  Now, if you don't like the whole sweet and spicy thing together, then Mole probably isn't for you.  While that saddens me, the good new is, that leaves more for the rest of us.  But seriously, who doesn't love chocolate and chiles together?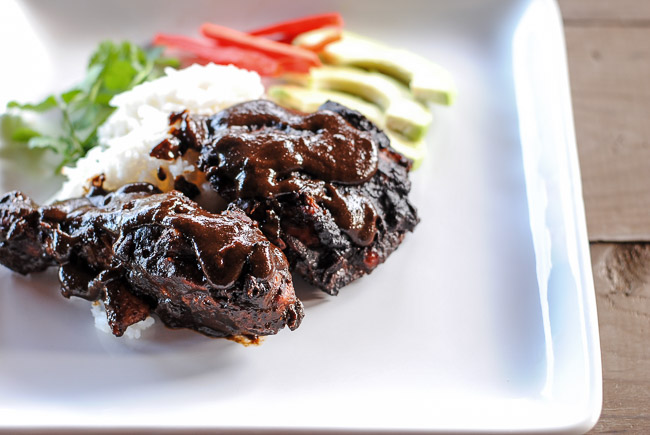 I must confess, I'm a chocolate addict! Well, maybe addict is a little strong.  I don't go to meetings or anything, so maybe it's just a habit.  A habit I don't plan to give up anytime soon.  I love most things chocolate and a few years back, I found a dark chocolate bar with red chiles in it.  At first I thought it was a strange combination.  I gave it a try anyway and discovered that the sweetness of the chocolate with a little heat on the finish was a match made in heaven.  When I discovered one of the main ingredients in Mole Sauce was chocolate, how could I not give it a try?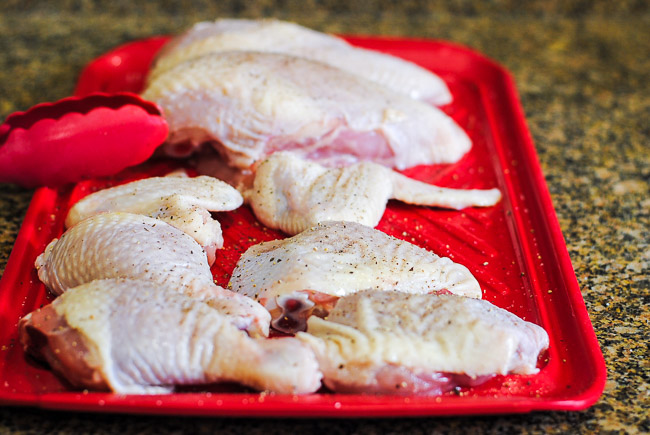 My wife and I took a trip with friends last year to Mazatlan Mexico.  We travel to Cabo San Lucas quite a bit, but this was our first trip to Mazatlan, and will not be our last.  One day we took a tour of the city in a Pulmonia, a type of taxi only found in Mazatlan.  Our first stop was a micro distillery located in the Golden Zone of Mazatlan by the name of Onilikan Liquor and Distillery.  Their claim to fame is being the only distillery in existence that makes a spirit derived from Mangos.  The spirits were amazing and we brought some home, but my wife found something else in the gift shop that I had to bring back as well.  They make a Mole Paste that you just add chicken stock, cook for ten minutes… Bam, you have Mole Sauce!
I have wanted to make Mole sauce for quite some time, but it seemed complicated and involved too many ingredients.  I still plan on giving it a try from scratch, but gotta say the paste sure makes it easy! You also don't have to go to Mexico to find it.  There are several brands you can get here in the states, like Doña María.  For dinner one night in Mazatlan, I ordered chicken enchiladas in a Mole sauce that were to die for.  It was that night I realized I must figure out how to use this sauce on grilled chicken.  As it turns out, it was very easy and oh so delicious!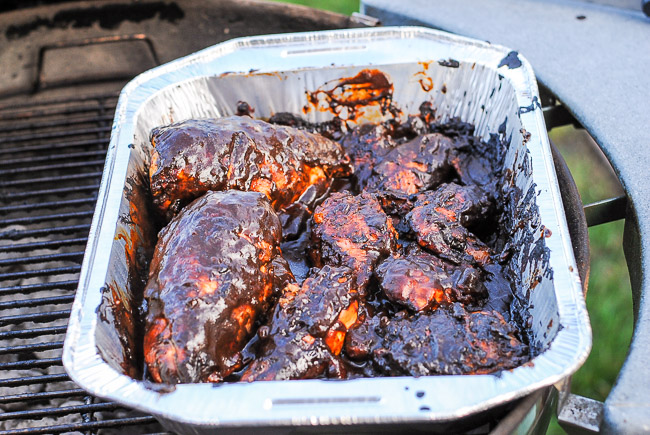 The key to this recipe, or any recipe really, is to start with the best ingredients.  I believe in using only free range organic chickens.  For this recipe, I used a whole chicken that I cut up, but you don't have to.  You can use whatever your favorite chicken parts are.  In fact, when I make this again, it will be with just thighs and legs because they were the most flavorful.  The most important step in the cooking process for this recipe is to get a good sear on the chicken first.  This renders a lot of the fat and makes the skin nice and crisp.  You want the skin to not get too soggy when it cooks in the Mole sauce.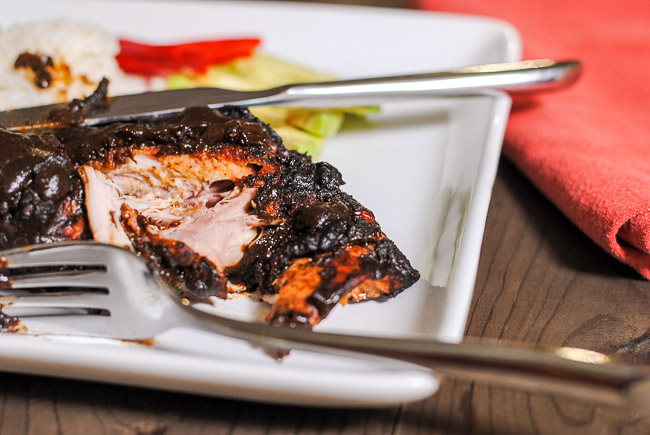 One of the great things about this Grilled Chicken Mole recipe is that you can serve it over rice with some veggies on the side, or you can pull all the meat off the bones and use it in tacos, or sliders, or whatever.  Which is exactly what we did with the leftovers the next day….ammmmmazing tacos!
Gracias to Umberto for the tour and showing us your Mazatlan! Many thanks to the fine folks at Onilikan Liquor and Distillery for sharing your amazing spirits, liqueurs, and of course your Mole paste with us.
Give this recipe a try and leave me a comment letting me know how you liked it.
Cheers to your grilling success!
Suggested Wine Pairing:
Red: Tempranillo
White: Roussanne

| | | |
| --- | --- | --- |
| Grilled Chicken Mole | | Print |
Prep time:
Cook time:
Total time:
Ingredients
1 whole chicken - cut into 8 pieces- I prefer free range organic ( feel free to substitute with your favorite chicken parts)
1 bag - OniliMole Paste - can substitute with jar of Doña Marîa brand or if brave make your own.
1-2 cups - Chicken stock - I prefer from free range organic chickens
salt and pepper - prefer fresh ground
Instructions
Prepare charcoal or gas grill for medium-high heat with both direct and indirect heat zones.
Cut the whole chicken into 8 pieces - discard backbone.
Season both sides of the chicken pieces generously with salt and pepper.
In a medium sauce pan, heat chicken stock and Mole paste over medium heat until combined, about 10 minutes.
Place chicken pieces on the grill over direct heat and cook until skin is golden brown on both sides. About 4-5 minutes per side.
Remove chicken from grill and place in 11.75 x 9.5 x 2.5 disposable foil pan and pour mole sauce over the chicken.
Place foil pan with chicken and sauce on the indirect heat side of the grill and close the lid. Maintain a grill temp of 350°-400°F . Rotate and turn the chicken every 15 minutes. Chicken should be done in 1-1½ hours or when the internal temp reaches 165°F.
Serve over rice with veggies on the side.
Enjoy!