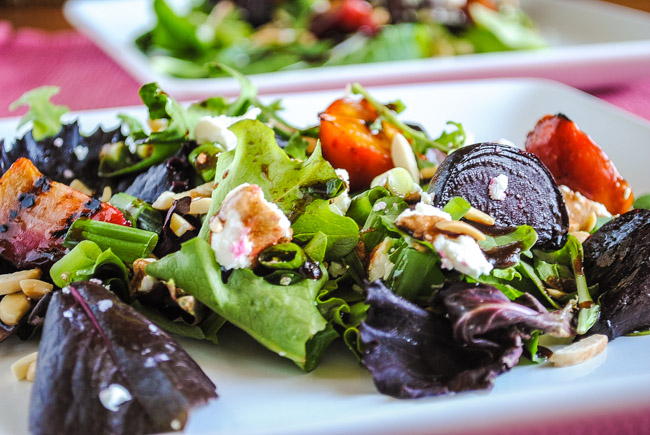 Who would have guessed you could grill beets?  I sure didn't, nor did I want to, until a couple of years ago.  Growing up I actually hated beets with a passion.  But in my defense, that was because my only exposure was to beets from a can. YUCK!  Had I been given this grilled beet salad back then, maybe I would have eaten more beets in my lifetime…eh, probably not.  My parents never served us beets, so I'm pretty sure they were not fans of them.  My only exposure to them was at grandma's house and grade school.
A couple of years back, I was reading somewhere on the health benefits of beets.  Some refer to them as "the worlds healthiest food".  Beets can help; lower your blood pressure, boost your stamina, help fight inflammation in the body, help lower your risk of cancer, provide valuable nutrients and fiber, and help detox your body.  I have even read that it was referred to as "nature's viagra".  I do not know about that, but I am not even going down that road!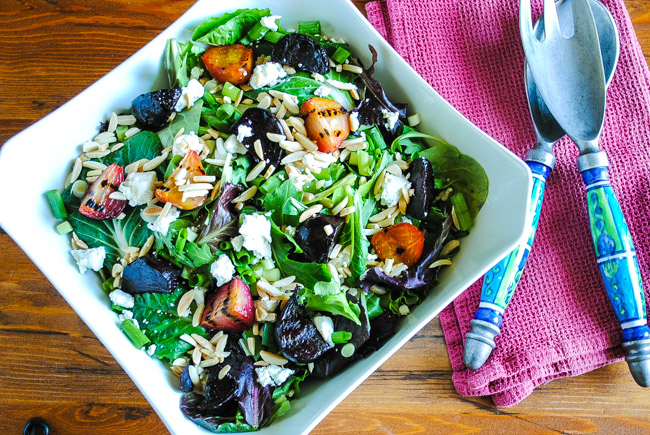 I did decide that if they are truly that good for you, with the exception of that viagra thing, maybe I should give them another try after all these years.  Except this time, in their more natural fresh form…NO cans!  Since I love to grill everything, why not try them grilled?  My first attempt was not so good.  I learned a valuable lesson regarding beets, and that is that no matter how much you wash them, if you do not remove the skins they will taste like DIRT!  Not good.  After doing some research, I found that if you parboil or roast the beets for a short time, you can rub the skin right off?  What a difference that made, no dirt flavor..yay!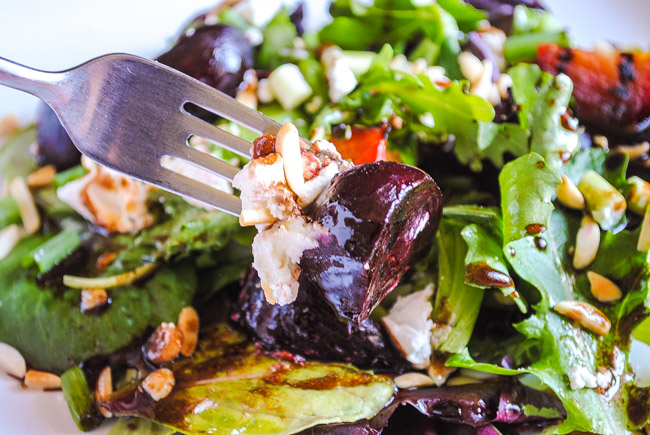 My second effort was much better.  After parboiling and letting the beets cool slightly, I rubbed the skin off, sliced them, and gave them a quick toss in some olive oil.  When grilled, the sugar in the beets caramelizes and they become like candy!  I sprinkled he grilled beets with goat cheese and toasted pine nuts and they were delicious.  It was a great side dish that almost seemed more like dessert.
I came up with the grilled beet salad idea, though I am sure I am not the first one to come up with the idea of grilling beets and using them in a salad,  after we were given some fresh beets from the garden from some friends.  Actually, they are close friends of my stepson and his wife, but we really refer to them as our adopted kids!  Thanks for the awesome fresh beets Jack and Diana! We are more than happy to take more off your hands if needed.
Like most salads, this grilled beet salad works well as a side salad or the main course in a light meal, for lunch or dinner.  As I mentioned in my last post, we are trying to throw in some lighter,  healthier meals into our diet and this salad falls under that category.  The Grilling Wino needs to drop his winter, post wedding, post vacation weight!
Suggested wine pairings: I like a crisp, light chardonnay or Sauvignon Blanc with this salad.  Beets along with the balsamic make for a tough pairing.  I say pair it with what you like! Experiment a little, what could go wrong?
Until next time, Happy Grilling!
Get our Free Winoze Wine & Cheese Pairing Guide

Prep time:
Cook time:
Total time:
Ingredients
8 small (baby) beets
6 cups baby spring mix, lightly packed
3 green onions, rough chopped
¼ cups slivered almonds, lightly toasted
3 ounces fresh goat cheese, crumbled
3 tablespoons olive oil
1 tablespoon California Balsamic Sweet Heat (or regular balsamic)
salt and pepper to taste
Instructions
- Wash beets thoroughly, dry and prick with a fork.
- Wrap each beet in foil and place on a hot grill over indirect heat. Roast until just tender, about 20 minutes. (This can also be done in a 400° F oven for the same amount of time). Set beets aside to cool after roasting.
- While beets are roasting, toast the slivered almonds in a dry pan over medium low heat until lightly brown in color (6-8 minutes), Set almonds aside.
- While beets are cooling, prepare the dressing by whisking together the olive oil and balsamic. Add a pinch of salt and pepper to taste. Set dressing aside.
- Once beets are cool enough to handle, remove skin by rubbing it off. ( I like to wear food prep gloves for this as the beets tend to stain your hands)
- Rinse, dry, and half or quarter the beets lengthwise (depending on he size of your beets). Lightly oil the beets on the cut sides.
- Place beets back on the grill and grill a few minutes on each side. Just enough to give them some grill marks. Remove beets from grill.
- In a large salad bowl, toss the baby spring mix with the dressing and top with beets, slivered almonds, green onions, and crumbled goat cheese.