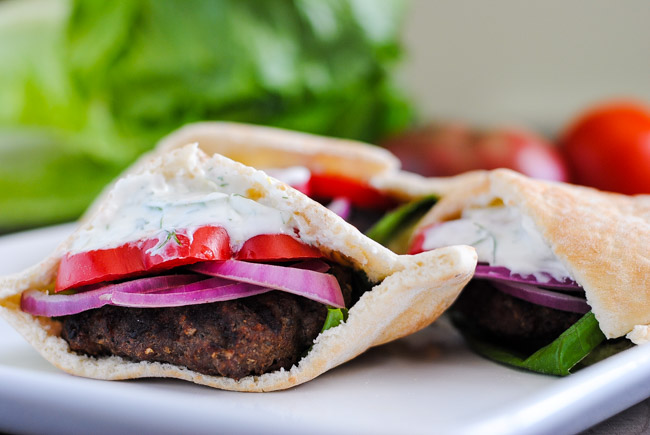 This Grilled Gyro Burger recipe has a few inspirational forces behind it.  The first, and most obvious, is that it's still grilling season and I'm always looking to come up with something new on the grill.  The second, would be my endless love for a good burger.  The final inspiration is that tasty little meat treat I fell in love with at a county fair many years ago, the Gyro.  Oh, I left out one thing.  The fact that we have quite a bit of ground beef from the grass fed 1/8 of a cow we purchased was also a motivating factor for this recipe.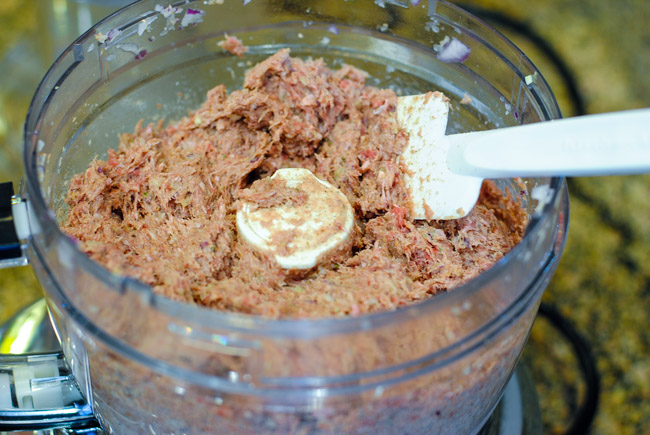 As I recall, I was not much of a lamb fan at the time of my first beef & lamb Gyro experience.  That is no longer the case as I have developed quite a love for lamb.  My curiosity was the driving force behind me giving the Gyro a try.  I was fascinated watching this large chunk of meat go around and around on the rotisserie while the person in the booth sliced it off in thin slices.  " Is that the beef or the lamb?" , I thought to myself.  I only saw one hunk of meat.  "How could they be making these sandwiches with beef and lamb when they are slicing it off one large hunk of roasting meat?  It made no sense to me.  However, I was a young teenager at the time and a lot of things did not make sense.
That first bite into that magical blend of lamb and beef was like nothing I had ever tasted.  It was, at the time, the most amazing roasted piece of meat I had ever sunk my teeth into.  It's hard to say truthfully if that first Gyro was truly that wonderful or it was because it was at the fair.  Fair food is a little like camping food, it just seems to taste better no matter what is.  However, after trying many Gyros over the years, I can say with certainty they are absolutely without a doubt one of the tastiest meat sandwich thingies you can put in your mouth!  A tip of the hat to Greece for the Gyro!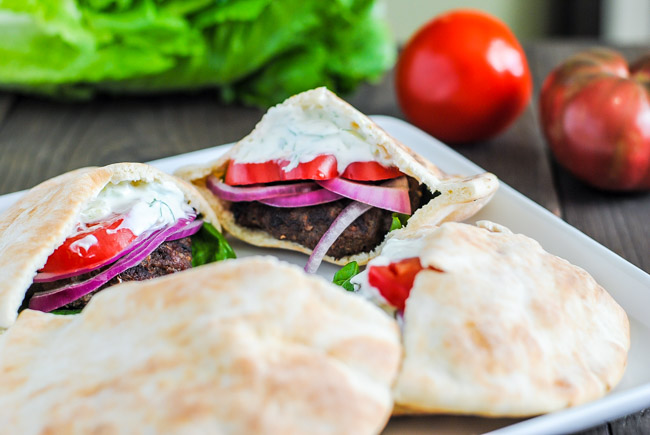 With this Grilled Gyro Burger recipe I was looking to recreate those same wonderful flavors I experienced in my first Gyro in a quick and easy way.  Whats easier than a grilled burger?  The spices, beef, and lamb create a really well balance flavor that is complimented perfectly by the tangy freshness of Tzatziki sauce.  Give it a try and let me know what you think.  I hope you enjoy it.
Until next time, Happy Grilling!!
Suggested Wine Pairing:
Red: Merlot or Pinot Noir
White: Sauvignon Blanc or unoaked Chardonnay

| | | |
| --- | --- | --- |
| Grilled Beef and Lamb Gyro Burgers | | Print |
Prep time:
Cook time:
Total time:
Ingredients
½ lb - Ground Lamb
½ lb - Ground Beef - ( I prefer grass-fed )
2 cloves - Garlic - chopped
¼ cup - Red Onion - chopped
¼ cup - bread crumbs
½ teaspoon - Allspice
½ teaspoon - Coriander - ground
½ teaspoon - Sea Salt
½ teaspoon - Black Pepper - freshly ground
¼ teaspoon - Cumin - ground
½ teaspoon - Oregano - dried
4 - Pita Pockets
1 - large Heirloom tomato - thinly sliced
4 - leaves of Romaine lettuce
¼ of a Red Onion - thinly sliced
Tzatziki Sauce
Instructions
Place chopped Red Onion and Garlic into a food processor and pulse until the onion is in small pieces. You will need to stop and scrape the onion off the sides of the bowl 2-3 times during this process.
Add the Lamb, Grassfed Beef, breadcrumbs, and the spices to the food processor. Pulse until everything is well incorporated.
Form the meat mixture into 4 patties - approx. ¼ lb each.
Prepare a charcoal or gas grill for medium- high direct heat.
While the grill is heating up prepare the Tzatziki Sauce.
Grill the meat patties for 3-4 minutes on each side ( longer if you like you burger more than medium done)
Toss the 4 Pitas on the grill for 30-60 seconds per side - just enough to heat them up.
Place a patty in each Pita and top with lettuce, tomato, thin sliced Red Onion, and a generous amount of Tzatziki.
Sink your teeth in and enjoy!!
Get our Free Winoze Wine & Cheese Pairing Guide