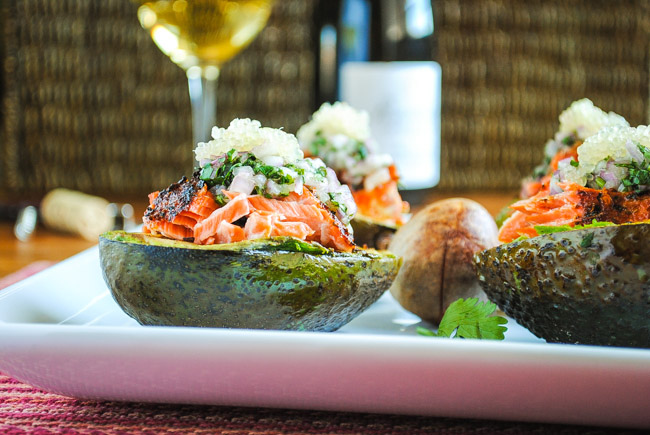 While cruising through the local market the other day something at the seafood counter caught my eye.  A sale on Wild Sockeye Salmon…YAY!  This particular market usually carries just farm raised salmon, which just doesn't even come close to comparing to wild fish in taste and texture.  Not to mention the health benefits are much higher with wild fish.  Once you go wild, you can never go back!  I was raised on wild fish so it is very difficult for me to eat farm raised fish at all.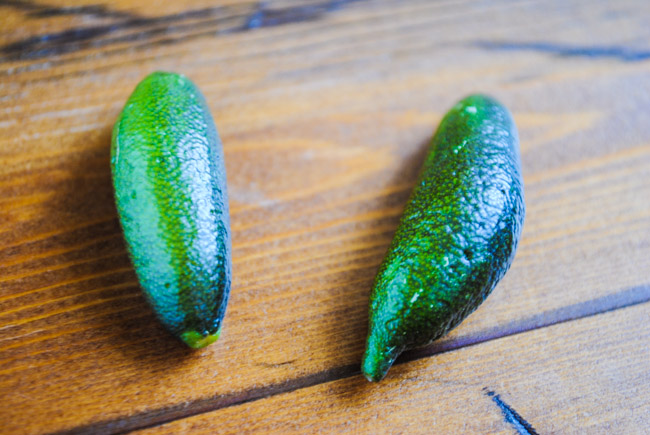 As I eyeballed the fish through the glass, I recalled having some finger limes in the fridge that needed to be consumed soon before they went bad.  A vision came to mind of an avocado stuffed with grilled salmon topped with a mixture of shallots, finger lime beads, cilantro, rice wine vinegar, and olive oil.  The wife was quite pleased with my vision as she was getting concerned she was not going to get to experience the citrus joy that is finger limes.  I had been experimenting recently with finger limes and paring them with things like oysters (my favorite) and shrimp.  Unfortunately, Julie developed a shellfish allergy a few years back so she has been stuck on the sidelines left to watch me enjoy these little citrus jewels.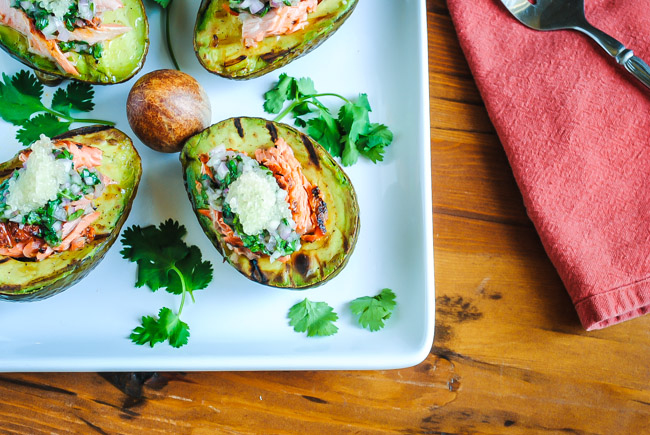 Normally I like to test a recipe at least once before I even think about writing  a post and taking photos.  But this time I decided to completely wing it and take a chance.  Really, what could go wrong when you are combining rich, creamy avocados with luscious, tasty salmon and the bright citrus pop of finger limes?  That's what I thought too, nothing!  Whew, so glad I was right and the last of my precious finger limes did not go to waste.  If you have not experienced the awesomeness of Finger Limes, I highly recommend them.  If you can't find them locally, visit our friends at Shanley Farms and they will hook you up with some Citriburst Finger Limes.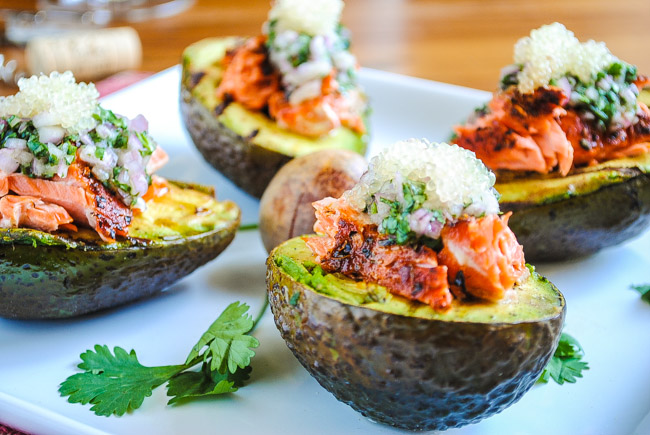 There are a few food blogs out there I have been following for a while that have great healthy fresh recipes.  My favorite, since I started my blogging journey, has been pinchofyum.com.  Lindsay is awesome and has been a great inspiration and  teacher for me through her blog and ebooks.  Recently I discovered 100daysofrealfood.com from an interview they did with Pat Flynn.  I recently found another very comprehensive blog post on processed foods at healthambition.com. If you are concerned about the impact of processed foods on your health and are looking to eliminate them from your diet, I highly recommend this article.  It is an easy read full of great information!  These blogs have got me thinking about what we could do better in our diet.  I think Julie and I eat pretty well and eat mostly fresh unprocessed foods.  Obviously, as a griller, I am never going to give up meat all together,  but I am sure there are areas where we can make some better choices regarding cutting out processed foods.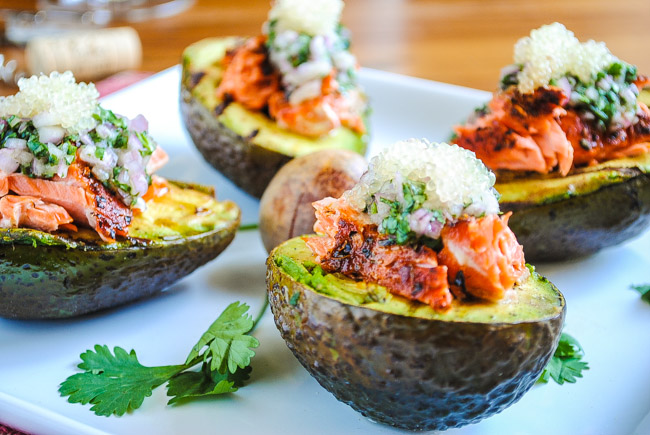 This recipe is part of that mindset in eating healthier, fresher, non-processed foods.  It will be something you see incorporated more of in future grillingwino.com recipes as we strive to be healthier, eat great food, drink awesome wines, and live a kick-ass life!  I hope you enjoy this little dish as much as I did.  It's great for a light dinner, lunch, or could even be used as an appetizer. Suggested wine pairings: A nice crisp Chardonnay, Sauvignon Blanc. Pinot Noir is also a great pairing. Until next time, Happy Grilling!
Get our Free Winoze Wine & Cheese Pairing Guide

| | | |
| --- | --- | --- |
| Grilled Salmon Stuffed Avocado with finger limes | | Print |
Prep time:
Cook time:
Total time:
Ingredients
1lb Wild Sockeye Salmon
3 teaspoons Williams Sonoma Potlatch Season Rub
2 large Avocados, halved with seed removed
½ lime, juiced
1 tablespoon olive oil
2 teaspoons rice wine vinegar
1 teaspoon pure raw honey
3 tablespoon Shallot, finely diced
¼ cup cilantro

,

chopped
Citrus beads from 6 Finger Limes

salt

and pepper to taste
Instructions
Prepare grill for medium high direct heat
Season the salmon with the potlatch seasoning
Place salmon on the grill and cook 4 minutes per side. Remove from grill and set aside.
While the salmon is resting drizzle the Avocado halves with olive oil, lime juice and a pinch of salt. Place on the grill flesh side down. Cook 5-7 minutes until charred but not too mushy. Remove Avocados from the grill and set aside
Whisk lime juice, olive oil, rice wine vinegar, honey, shallot, and cilantro together. Add a pinch of salt.
Remove the citrus beads from the finger limes into a small bowl
Stuff the Avocado halves with flaked salmon and top with the cilantro and shallot mixture.
Top with a teaspoon of the finger lime citrus bead and serve.
ENJOY!