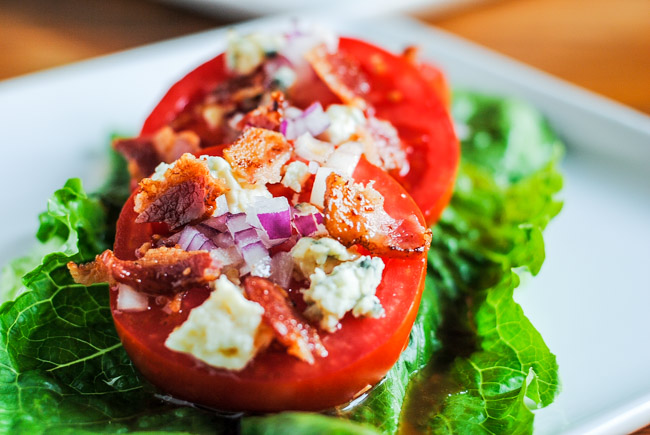 We took a trip to Cabo San Lucas, Mexico in June of this year and had an amazing time.  We own a time share there and go down at least every other year.  We love the weather, the people , and the food in Cabo. On this trip, for the first time ever, we did the all inclusive for food and drinks. Turned out to be the best decision and we experienced some amazing food.  This recipe was inspired by a salad I had the night we ate at The Steakhouse at the Quivira Golf Club.  The food was amazing and the view incredible!  I had the best Filet Mignon ever.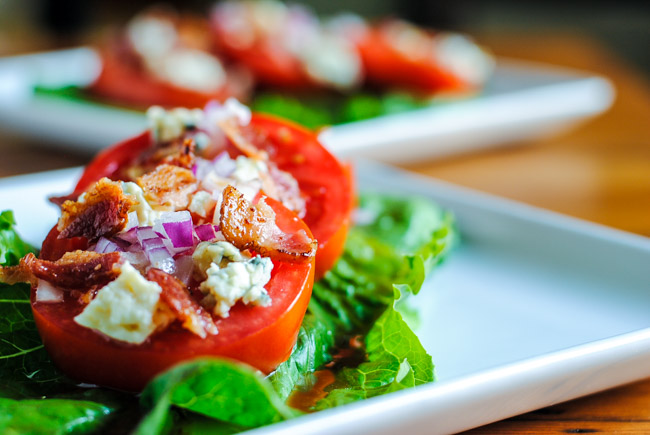 I could go on and on about the steak, but this post is about the salad I had prior to the steak.  It was very simple and delicious.  The salad consisted of 3 slices of a huge tomato, sliced about an inch thick, sitting on a small bed of lettuce, topped with blue cheese, finely diced red onion, and a vinaigrette. I am a blue cheese junky, so they had me at blue cheese.  Everyone at the table said " Steve you have to recreate this at home".  I had the same thought and took a photo of it with my phone.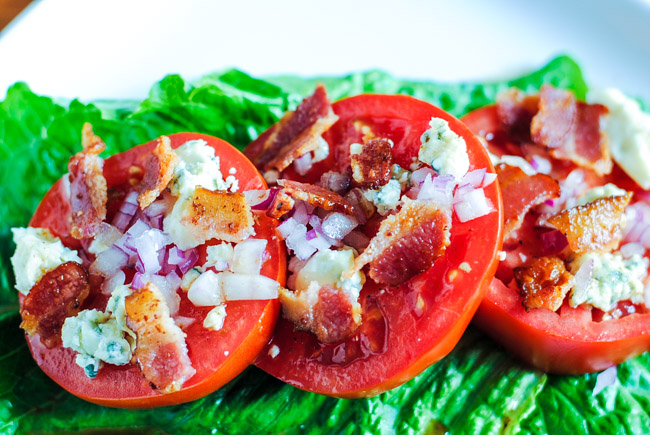 It is unusual for me to post a recipe that does not involve the grill in any way, but nothing in this recipe ever touched the grill.  I had been wanting to recreate this for quite a while, but finding the perfect tomatoes was a bit of a challenge.  As luck would have it, we recently came back from spending several days in Santa Cruz California and stopped at a great fruit and veggie stand near Watsonville.  We actually stopped because the sign said "Avocados 7 for $1" and ended up buying a huge bag of goodies, including some very large bright red tomatoes.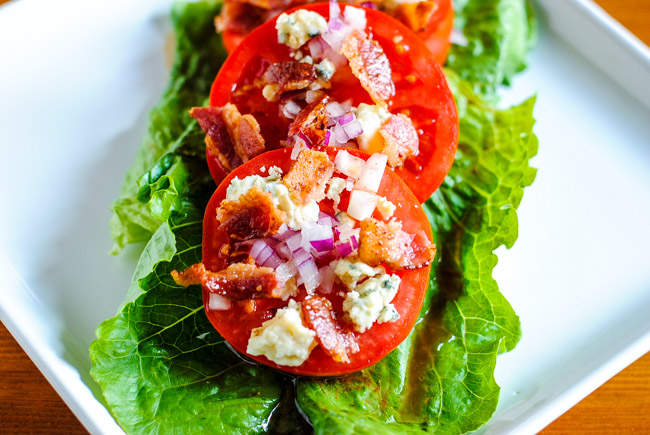 While thinking of recreating this salad, I wanted to put my own twist on it as well.  For some unknown reason I had a childhood memory of a wilted lettuce salad and thought maybe bacon, another addiction of mine, and a warm vinaigrette would be a nice twist.  As it turns out, I was right!  However, when I made it the first time I forgot the red onions, something Mrs. Grilling Wino pointed out right away.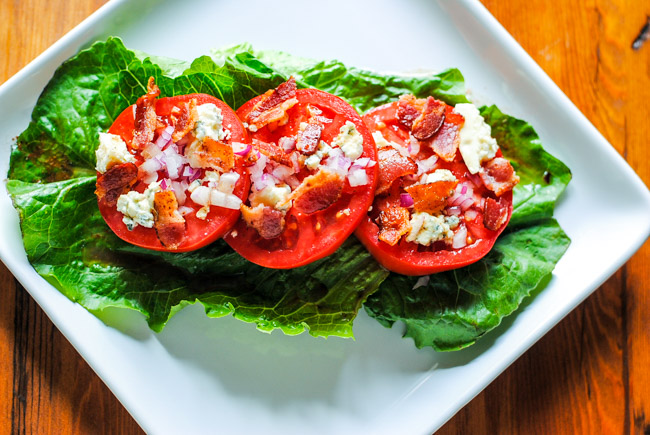 I love that this is so simple to make and is packed with so many of my favorite flavors.  The key is to use high quality ingredients.  The tomatoes are the star of this salad so find the largest, tastiest you can get.  Also, use a high quality bacon and the best blue cheese you can get your hands on!
This salad is versatile and is great prior to the main course of your dinner, but also can be a meal in itself for a light dinner or for lunch.  If  you like BLT sandwiches, this is a must try salad.  Enjoy!!!
Until next time, Happy Grilling!
Suggested Wine Pairing:
White:  A dry Riesling or crisp Sauvignon Blanc, or a light crsip Chardonnay.
Red: A dry Rose or a Pinot Noir or a Pinotage.
Prep time:
Cook time:
Total time:
Ingredients
8 - Large leaves of Red Leaf or Romaine Lettuce
4 - Large Tomatoes - sliced ¾" - 1" thick
¼ cup - Blue Cheese - crumbled
¼ cup - Red Onion - diced fine
6 - Bacon slices
3 tablespoons - Red Wine Vinegar
1 tablespoon - Lemon Juice
1 teaspoon - Sugar
½ teaspoon - Ground Black Pepper
Instructions
Place 2 leaves of lettuce on each plate and top with 3 tomato slices.
Top the tomato slices with the Blue Cheese and dice Red Onion.
Cook Bacon in a large skillet over medium-high heat until browned evenly. Remove bacon from pan, crumble, and scatter over the tomatoes.
To the bacon drippings add the vinegar, lemon juice, sugar, and black pepper. Heat over medium heat while whisking to form the dressing.
Drizzle the warm dressing over the tomato salad.
Enjoy!
Get our Free Winoze Wine & Cheese Pairing Guide